New Zealand national cricket team are totally a different team altogether. They dominated the Test format and it was no surprise seeing them at the top of the ICC Test rankings. The Black Caps are third when it comes to ODI rankings whereas they are sixth in the T20I rankings.
Overall, their performance in home and away fixtures have been quite fantastic. They defeated the mighty Indian cricket team in the 2019 World Cup semi-final in England and Wales and then made it to the final. They lost to the hosts England on the basis of boundary count rule.
Their form in Test cricket has been truly sensational. They comprehensively completed 2-0 clean sweep over West Indies and Pakistan in the recently-concluded Test series. They gained maximum championship points and took the numero uno position in the Test rankings.
It is no doubt that New Zealand cricket has produced the greatest players over the years. However, not all of them hail from the same country as the former and the current batch of cricketers are descendants of the Asian nation. It is not about New Zealand even other countries of the world have players from the Asian nation.
In this article, we will look at the 6 cricketers from New Zealand cricket team who have a connection with India.
6. Dipak Patel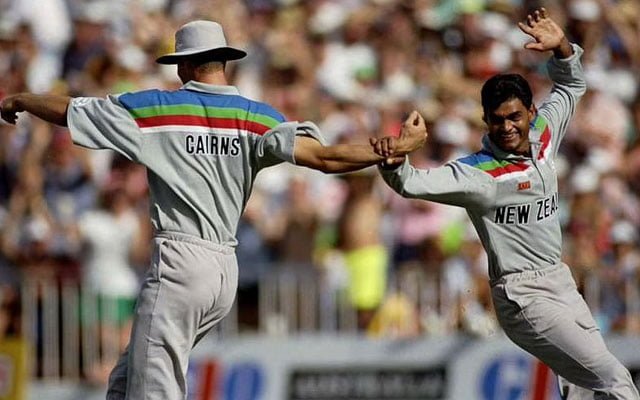 If you would recall Dipak Patel is a former New Zealand off-spinner. He was born in Nairobi, Kenya but flew to England with his family as a 10-year-old boy in the year 1968. Dipak developed a penchant for cricket in his childhood days and then made up his mind to become a cricketer.
He played county cricket for Worcestershire for over a decade and then lived up to the expectations. Patel chipped in with superb all-round performances and made a mark for himself. But, he wasn't given more chances and was excluded from England selectors. This is why he decided to move to New Zealand to continue playing the game he truly loves.
He made a mark in international cricket in 1987 when he made a Test debut against West Indies at Wellington. Overall, he played 37 Tests and 75 ODIs for New Zealand, taking 75 and 45 wickets respectively. He was also quite handy with the bat scoring 3154 and 2261 runs respectively. He was part of the team that featured in three consecutive World Cups – 1987, 1992 and 1996.