When the curtains are raised for an IPL season, the mercury level shoots up to around the globe. Players, whether national or international, are seen toiling hard to compete with the best in the business. Well, it's not just the players who are swamped with cricket for the next couple of months, there are significant contributors to the cash-rich league who work relentlessly behind the star cast.
Yes, they are the people who bring the fans an inch closer to their favourite franchises or players. The social media support group is as important to a franchise as any other key stakeholder. Their journey ahead of any IPL season starts months before and probably ends up months after the denouncement of the season. With millions of fans glued to their respective franchises and players for months, the social media teams of these franchises bridge the gap between the fans their dear players, and franchises.
They connect the fans of the game with all the live updates, activities, news, and stories around their teams. Serving millions of fans is no walk in a park and it won't be far-fetched if due credit is being given to this innovative flock of people for the mass popularity of the league. Having said that, they are a crucial cog in the wheel of all the IPL Franchises'.
Ever wondered what might be the code to the social media handles of these franchises'? Well, we have cracked the code!
1. Royal Challengers Bangalore – EESALACUPNAMDE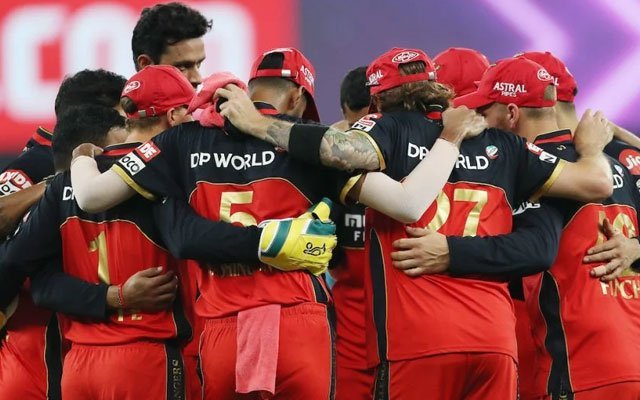 One of the most talked and flamboyant IPL team even after years of dismal performances, speaks volumes of the work done behind the stage to poach and grip a major chunk of the IPL fans. RCB has one of the biggest fan bases and despite all the failures, the fans have not failed to shower their support for the red-army.
"Ee Sala Cup Namde" is a popular slogan amongst the RCBians and before the start of the season, you will find RCB fans roaring this slogan in the hope of lifting the trophy this year. This phrase essentially means "This time the cup is ours".
With the likes of Virat Kohli, AB de Villers, KL Rahul, and Chris Gayle-to name a few, it was apparent that batting was never an aching problem for RCB. It was the bowling department that has let the franchise down on most of the occasions. It will be interesting to see in IPL 2021 that whether RCB has addressed the problem or not?