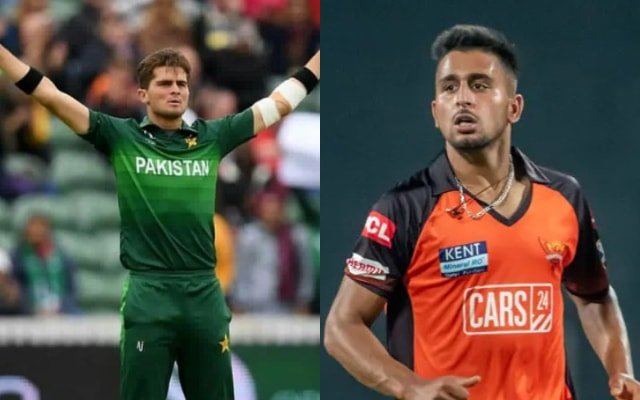 Pakistan pacer Shaheen Afridi has opened up about India's latest pace sensation Umran Malik and gives an unusual remark about the youngster's bowling. In the recently concluded Indian Premier League, the Kiwi pacer Lockie Ferguson and the young pacer from Jammu & Kashmir, Umran Malik, had a competition going to break the speed guns.
Both pacers kept toppling each other's pace while constantly surpassing the 155 kmph mark. However, in the end, Lockie Ferguson won the battle by clocking 157.3 kmph delivery in the final between Gujarat Titans and Rajasthan Royals. Meanwhile, Umran Malik also finished the season on a high after winning the ' Emerging Player of the Season' award.
Now, our neighbours Pakistan are traditionally considered the factory of the pace bowlers and the game of cricket has witnessed some legendary pacers coming out of Pakistan over the years. Talking about the current generation, left-arm pacer Shaheen Afridi has emerged as the leader of Pakistan's pace attack.
"Pace is not everything" – Shaheen Afridi on Umran Malik's bowling
According to the men's cricketer of the year in 2021, the speed won't help a bowler much if he can't control the line and length of his deliveries.
"Speed can't help you if you don't have line and length and swing," quipped Shaheen when he was asked about the Indian pacer Umran Malik's performances in the Indian Premier League 2022.
The left-arm fast was addressing the media ahead of Pakistan's three-match ODI series against the West Indies. The series was scheduled to be played in December earlier but it was postponed courtesy of the multiple Covid-cases in the Caribbean camp.
Meanwhile, Shaheen Afridi is ready for the West Indies' challenge and he is raring to go for the hunt.
"The weather is hot but we are looking forward to playing good cricket in it. It would be a tough challenge for the fast bowlers to bowl long spells in summer but as a professional, we are ready to face it," said the pace bowler.
"This is an important series in terms of World Cup qualification which is why we don't want to lose any match. Also, West Indies are a strong international side and it is not as if they are sending under-19 players for this series," Shaheen Afridi concluded.
The three-match ODI series will be kickstarted on the 8th of June as all three games will be played in Multan.