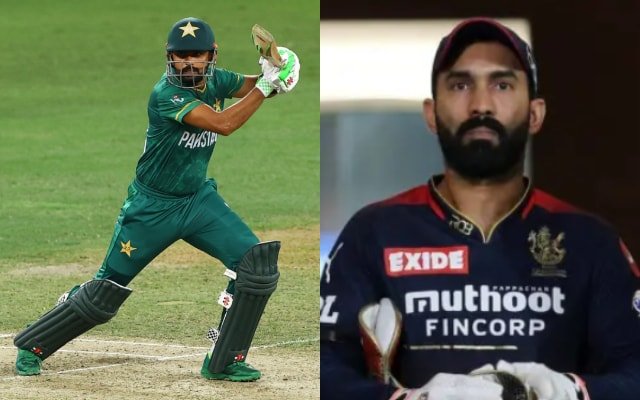 Pakistan skipper Babar Azam has responded to the remarks he received from the Indian wicketkeeper-batter Dinesh Karthik a few days ago. For the unversed, the Tamil Nadu-born batter recently heaped praise on Babar for his batting excellence and also predicted him to achieve the number one ranking in all formats soon.
If we talk about Babar Azam's numbers in the international arena, the right-handed elegant batter has represented Pakistan in 40 Tests, 86 ODIs, and 74 T20Is. Across the formats, he has managed to amass a total of 9798 runs in his career. Among all the formats, Azam has the best average in ODIs as he scores 59.18 runs on average in the 50-over format. Meanwhile, he carries an average of 45.98 and 45.53 in Tests and T20Is, respectively.
The Pakistan skipper is currently sitting at the helm of the T20Is and ODIs batting rankings of the ICC as the numero uno batter.
"Definitely, it is a dream to be number one in all formats," says Babar Azam
Speaking in a press conference, the Pakistan skipper responded to Dinesh Karthik's remarks and opened up about the factors that are required to reach the top in all formats.
"Definitely, as a player it's a dream to become the No. 1 in all formats and for that, you have to focus and put in hard work. It's not like if you are the top player in 1 or 2 formats, you go easy. If you are to become No.1 in all three, you have to keep yourself fit and on track. There is back-to-back cricket and the gap is less. For that, you need to be extra fit. It's something I am preparing for. It's going well in white-ball and hopefully, I will be able to do well in Tests too," said Babar Azam during the press conference.
Earlier, Dinesh Karthik praised Babar Azam and talked about his potential to become the number one batter in all formats.
"Babar is a high-quality player who is at the peak of his batting prowess and he has got some Test matches coming up. He has been phenomenal in all three formats of the game and he has done well in different batting positions too," said Karthik.