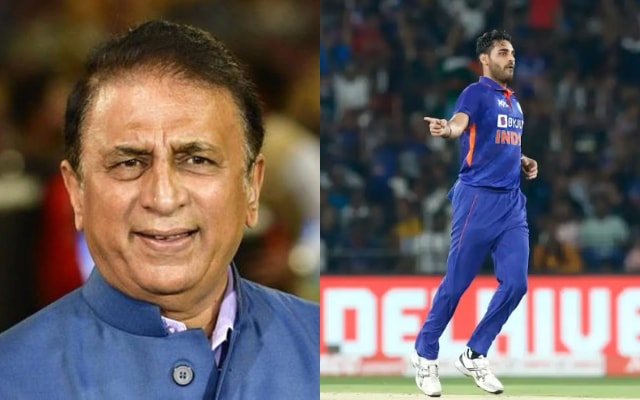 The former Indian opener Sunil Gavaskar has lauded the pacer Bhuvneshwar Kumar for his solid performance against South Africa in the 2nd T20 game. He also has backed the swing bowler to find a place in India's squad for the upcoming T20 World Cup in Australia saying it will be a huge plus to have someone like Bhuvneshwar in the Australian conditions. The legendary batter has also added that he "thoroughly enjoyed" Bhuvi's performance in the 2nd T20 game against the Proteas.
Sunil Gavaskar heaped praise on Bhuvneshwar Kumar's ability to swing the white ball and opined that his skills will be handy on the Aussie surfaces with extra pace and bounce. The right-handed pacer returned to the form after bowling a superb spell of 4/13 runs in four overs during the 2nd T20 game.
"He has the capability to swing the white ball" – Sunil Gavaskar on Bhuvneshwar Kumar
"When Reeza Hendricks was on strike, he knew he struggles against the inswinger. He got one right and knocked him over. The white ball doesn't swing that much, in the air or off the surface, but he has got that capability and that is why it was very good captaincy from Rishabh Pant to give him that third over in which he got a wicket as well," said the former cricketer-turned commentator while talking about Kumar's bowling on Star Sports.
The legendary opener also highlighted how India's ace pacer set-up Dwaine Pretorius with a knuckle-ball which drew a false shot from the all-rounder.
"Dwaine Pretorius walked in next and he decided to take him on, but is knocked out with the knuckleball. Just brilliant control and execution," explained further the former India skipper.
"To have someone like him in Australia, where there will that little bit more carry and bounce, I think that will be a huge plus," concluded Sunil Gavaskar.
India have had a tough start in the five-match series as they are 0-2 down after the first two games. However, Bhuvneshwar Kumar's form has been a big positive for them as he is the country's most experienced pacer in the white-ball cricket.