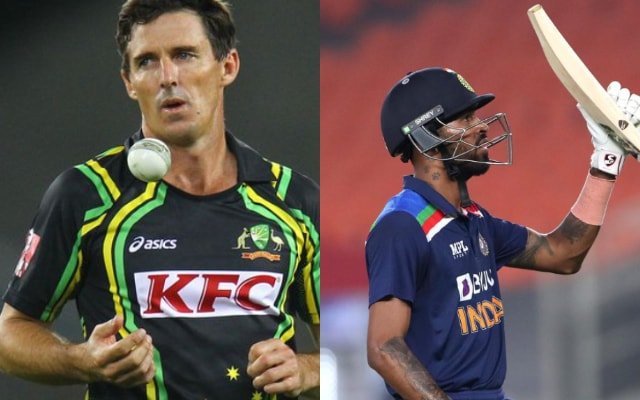 Former Australia spinner Brad Hogg has termed India all-rounder Hardik Pandya as the best T20 cricketer in the world right now. The left-arm spinner has picked the destructive all-rounder from Baroda and the New Zealand all-rounder Daryl Mitchell as the two most impressive cricketers in the world in the last month.
While Brad Hogg has termed Hardik Pandya the best player in the T20 cricket, he lauded Daryl Mitchell for standing against a fearsome bowling attack of England in the ongoing Test series.
The 28-year-old all-rounder has made his comeback to the national colours in the T20 series against South Africa. He returned to the Indian side on the back of a strong IPL 2022 season. Hardik captained the debutants Gujarat Titans to the title victory in the very first season.
Now, the former chinaman spinner, Brad Hogg has lavished praise on Hardik Pandya and also opined that India should appoint him the T20 skipper ahead of KL Rahul.
Hardik Pandya should be named India's T20 skipper: Brad Hogg
In a video shared on his Instagram account, Hogg spoke about Hardik Pandya.
"Hardik Pandya should be captain of this T20 team in front of Rahul. He proved his worth in the IPL. He wants those tough moments when the team's back is against the wall. He wants to go out there and deliver, whether it's with bat or ball," said Brad Hogg.
The former Aussie spinner also termed the Baroda-born all-rounder an adaptable cricketer.
"The other night (1st T20I), he came in during those final overs and was able to find the boundary from ball 1. Not too many people can do that. And he can go up and do the job at the top of the order if they lose early wickets as well. He is the most valuable T20 cricketer going around in world cricket right now," concluded Brad Hogg.
In case you don't know, Hardik Pandya has marked his comeback to the Indian team successfully with a finishing knock in the first T20I game, where the right-handed batter smashed 31 runs off 12 deliveries, including three sixes.