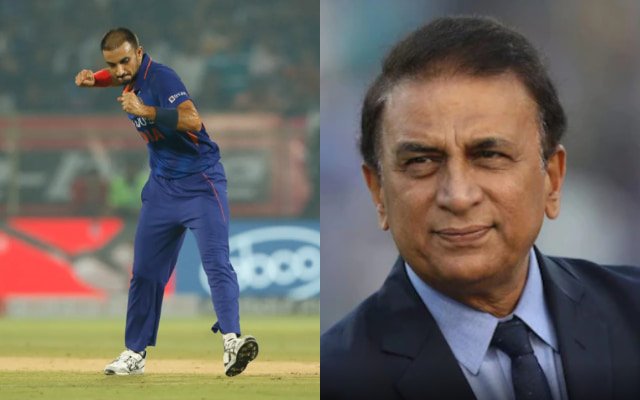 Former Indian opener Sunil Gavaskar has opined that the pacer Harshal Patel could be India's trump card in the upcoming T20 World Cup. Gavaskar feels that it is brilliant for the skipper Rohit Sharma to have a bowler like Patel to depend on. Meanwhile, former South Africa skipper Graeme Smith has also heaped praise on Harshal Patel, saying that the witty bowler is a big asset to have in the team.
Harshal Patel built his way to the national side after performing consistently in the Indian Premier League. And, since his introduction to the national side, Patel has managed to perform consistently while wearing the blue jersey. Harshal Patel has accounted for 18 wickets in 13 matches at an economy rate of 8.14 despite bowling in the death mostly. He also has had a successful series against South Africa, where he scalped 7 wickets in 4 T20Is and finished as the highest wicket-getter in the five-match series.
"Brilliant for a skipper to have someone like Harshal Patel to depend on" – Sunil Gavaskar
"He will be one of the trumps cards because you have Bhuvneshwar, Shami and Bumrah as well," said Gavaskar, on Star Sports.
"Brilliant for a skipper to have someone like him to depend on, he can come in and bowl maybe even in the powerplay where people are now going with the change of pace. So yes, he certainly should be part of the group," Sunil Gavaskar added.
Meanwhile, Graeme Smith said that the 31-year-old has clarity of thinking and handles pressure really well.
"He has been excellent. Nobody skills in the death overs with the slower balls…but I feel from game 3 he found his right length and picked up wickets and kept the pressure on the South Africans. He has all the skills as an all-rounder bowler and is a big asset to the team and handles pressure very well and is a clear thinker under pressure," said Graeme Smith.
Harshal Patel has emerged as one of the best Indian T20 bowlers lately. He has been a death specialist and India will feel better having him alongside Jasprit Bumrah going into the T20 World Cup 2022, scheduled to be played in Australia later.
Also Read: "I don't think I will be selected" – Wriddhiman Saha believes selectors don't want him in Indian team