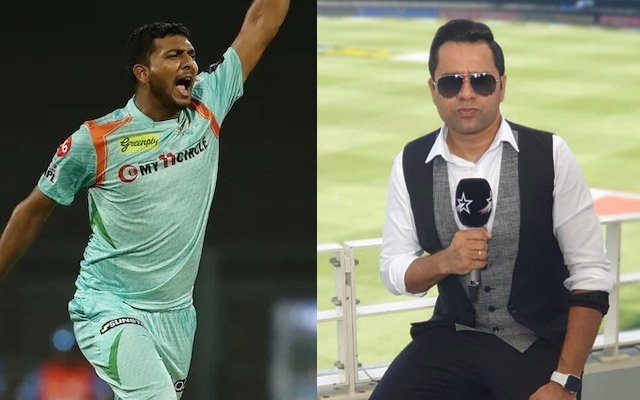 Former Indian opener Aakash Chopra has suggested that Lucknow Super Giants' pacer Mohsin Khan is a special bowler and he will play for the national side soon. Mohsin Khan had a breakthrough season for the Lucknow Super Giants in the Indian Premier League 2022.
The left-arm pacer was one of the leading performers for the franchise as he accounted for 14 wickets in 9 matches. Khan also managed to maintain an extraordinary economy rate of 5.96 despite bowling in the powerplay.
Now, former cricketer-turned-cricket expert, Aakash Chopra has heaped praise on the youngster.
Mohsin Khan is a unique bowler, says Aakash Chopra
On Friday, Chopra analyzed the top-performing uncapped Indian bowlers in the Indian Premier League 2022. While talking about Mohsin's bowling, Chopra quipped, "Mohsin Khan has a unique thing, just like Umran (Malik) has pace, he (Mohsin) has the bounce. Either you have the bounce or you don't. Mohsin Khan has a high point of release because the bounce is directly proportional to the point of release."
He further talked about the height advantage Mohsin Khan has and he also predicted that Khan will soon receive his maiden national call-up soon.
"If the ball is going to hit my chest or is near my head, how will I play a shot because it is not that short that I can play the pull and it is not that full that I can play a drive. The disconcerting bounce Mohsin Khan gets makes this bowler unique and that is why I feel he will play for India very soon," Aakash Chopra added further.
India are searching for a quality left-arm pacer for a while now and they are keeping a tab on every top-performing left-arm fast bowler in the country. During such a time, Chopra claimed that Mohsin Khan's bowling style is similar to Australia's Bruce Reid and Pakistan's Mohammad Irfan.
"He is extremely tall, like a monster, like a super giant and bowls with a high arm. The bounce he gets, we people haven't played that. It is that Bruce Reid type of bounce, the tall Australian whose bounce used to trouble batters. There used to be Mohammad Irfan also in the Pakistan team," elaborated Aakash Chopra.
The Delhi batter also complimented Mohsin Khan for maintaining his temperament while bowling in a pressure game like the Eliminator.
"Temperament is incredible and he even bowls a slower one. He has got hit in an odd match but other than that, he has been absolutely sensational. You reached the Eliminator and it is your first IPL, and to perform like that in that, means this guy is going to go far," concluded Aakash Chopra.