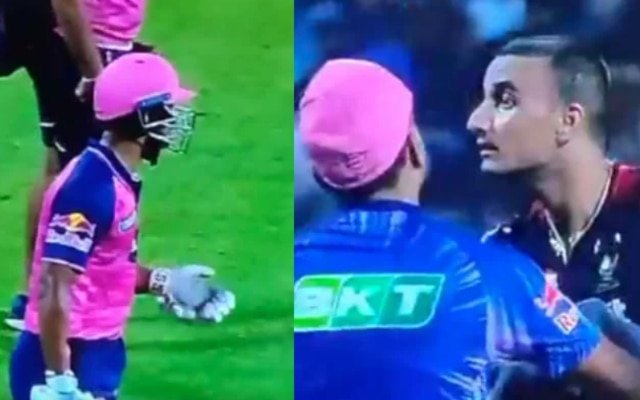 Rajasthan Royals all-rounder Riyan Parag has opened up about his heated exchange with Harshal Patel and Mohammad Siraj during the recently-concluded IPL 2022. Recalling the altercation against Royal Challengers Bangalore, Parag revealed that the pacer Mohammad Siraj instigated the fight. Later his RCB teammate, Harshal Patel also joined the forces as the fans witnessed an ugly on-field spat during an IPL game. Meanwhile, Riyan Parag also called Harshal Patel an immature person for refusing to shake hands with him after the match.
For those who don't know, a heated verbal exchange happened between Riyan Parag and Harshal Patel after the conclusion of the first innings during the game between Rajasthan Royals and Royal Challengers Bangalore. Parag played a fine hand by scoring an unbeaten fifty to take his side past a respectable total of 140. At the same time, he took the death specialist Harshal Patel to the cleaners by smashing him for 18 runs in the final over.
Mohammad Siraj asked me to behave like a kid, says Riyan Parag
Recalling an incident from the IPL 2021, Parag stated that Harshal Patel made a hand gesture after dismissing him in IPL 2021. Hence, he made the same hand gesture after smashing him for runs this year.
"Last year, Harshal Patel had dismissed me when we were playing against RCB. I was walking back. Then, he made a hand gesture telling me to go away. I didn't see that on the spot. I saw that when I went back to the hotel and saw the replay. It stuck in my mind since," revealed Riyag Parag during a gaming stream on Rooter.
"Now, when I hit him (Harshal) in the last over (against RCB in IPL 2022), I did the same gesture. I didn't say anything, I didn't abuse. But then, Siraj called me and said, 'Hey, come here, come here'. He said, 'you are a kid, behave like a kid." Riyan Parag further.
"I told him, 'bhaiya, I'm not saying anything to you'. By then, players from both the teams came and it ended there. Later, Harshal didn't shake my hand. which I thought was a little immature," Riyan Parag concluded.
Meanwhile, Riyan Parag had a decent season with Rajasthan Royals as the all-rounder 183 runs in 14 innings including a half-century.