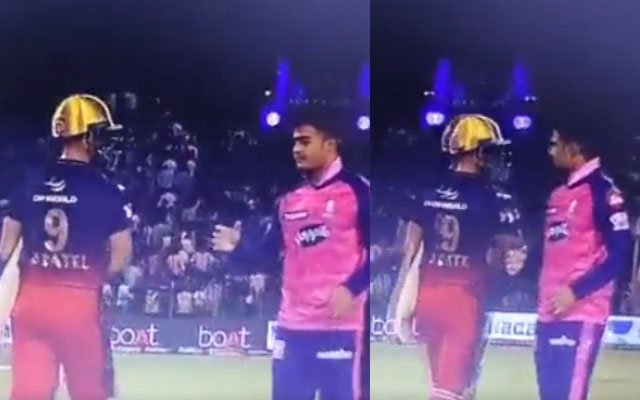 What a night it turned out to be for Rajasthan Royals! They showed the world that they are not only relying on their top batters to deliver but their bowlers also have the capacity to defend any total.
On Tuesday, the Royal encounter took place between Rajasthan Royals and Royal Challengers Bangalore in the 39th match of the IPL 2022. The Royals in Pink defeated The Royals in Red and Black by 29 runs to reach the top of the table. Rajasthan Royals now have six wins and two losses after eight matches.
The bowlers alongside Riyan Parag were the architect of this fighting victory for the Jaipur-based franchise. However, an ugly incident between RCB's pacer Harshal Patel and RR's all-rounder Riyan Parag caught the attention after the game.
During the first innings, Riyan Parag smashed Harshal Patel for two maximums in the final over. Later, both players were involved in a verbal exchange before the teammates separated the two. It was more of an act that happened in the heat of the moment.
Harshal Patel refuses to shake hands with Riyan Parag after the game
Cricket is always considered the game of gentlemen. No matter what happens on the field, it stays on the field. The players are supposed to shake hands after the conclusion of the game.
However, the scenes after the clash between the two Royal sides won't please cricket fans a bit. In a surprising manner, Harshal Patel refused to shake hands with Riyan Parag. The Rajasthan all-rounder was feeling upbeat after helping his side notch up a vital win and came forward to shake hands with the RCB's pacer. However, Harshal ignored the youngster and just walked past him, leaving Riyan Parag confused.
It wasn't the best of the behaviour from Harshal Patel but he could be given some discount as he has been going through a great personal loss at the moment.
Watch the video here:
The feeling that H Patel expressed on the play of cricket emotions is wrong👎🏻 pic.twitter.com/2tqaalExOA

— Dinesh Prajapat (@DineshP57204355) April 26, 2022