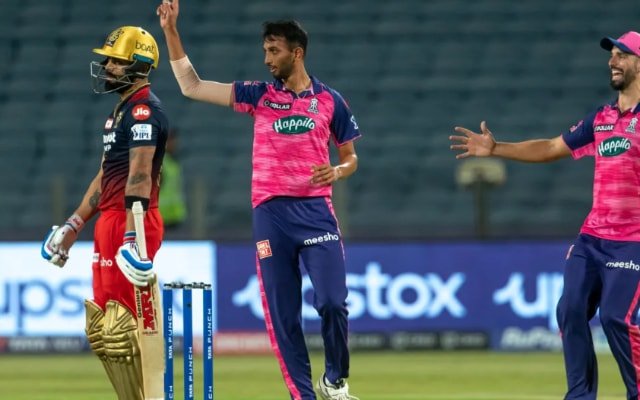 Royal Challengers Bangalore never fail to amaze us or do they? Season after season the story remains the same for them. They begin with a bang, increase the fans' hopes and then wham! RCB will produce shambolic performances, start choking at the vital junctures and lose the matches frequently to get back to square one.
After facing a humiliating defeat against Sunrisers Hyderabad, fans were hoping for a strong reaction from the Bangalore-based franchise. However, they once again had a batting collapse to lose a game that should have been won.
The skipper Faf du Plessis chose to bowl first after winning the toss and his bowlers responded positively to back the decision. Josh Hazlewood and Mohammad Siraj led RCB's attack and reduced Rajasthan Royals to 68/4 inside the first ten overs.
RCB kept chipping in with the regular wickets and Rajasthan Royals could never get off the blocks. However, a special effort from the young Riyan Parag (unbeaten 56 runs off 31 deliveries) pushed Rajasthan Royals to a fighting total of 144/8 in 20 overs. However, the total was still under-par at this venue and RCB must have been feeling confident after the first innings.
RCB messes the chase once again
Chasing a modest total, the Reds lost out-of-form Virat Kohli early. Skipper Faf du Plessis and Rajat Patidar tried to stitch a partnership for the third wicket but once Faf was gone in the 7th over, it all went downhill for RCB. They kept losing wickets and were bundled out for a paltry 115 in 20 overs to lose the game by 29 runs.
Royal Challengers Bangalore have slipped to the 5th place in the points table with this defeat as they have five wins and four losses in nine games now. Meanwhile, Rajasthan Royals have climbed up to the league standings with six wins and two losses in eight matches.
The fans were not pleased by RCB's effort on the night and they mercilessly trolled the Bangalore-based franchise.
Check the best reactions here:
Vintage RCB is BACK 🔥🔥
RCB fans be like :#RCBvsRR pic.twitter.com/k8iwRyWzwc

— Anirudh Sharma (@Anirudh78867581) April 26, 2022
Can someone do a masterclass on how to fight when the chips are down so I can gift it to both the teams I support please @ManUtd @RCBTweets 🙄🙄🙈🙈

— Mahesh Bhupathi (@Maheshbhupathi) April 26, 2022
Teams can at times be over consumed with bigger players fighting battles with their own demons. Is this what's happening with @RCBTweets ? #RCBvsRR #RRVSRCB

— Vikrant Gupta (@vikrantgupta73) April 26, 2022
MI and CSK fans right now after Vintage RCB trending..#RCBvsRR pic.twitter.com/A0aEQjf8j3

— Ashutosh Srivastava (@kingashu1008) April 26, 2022
Everyone got chance for batting …💓💓💓 RCB Is love 💓 pic.twitter.com/KlOKTDPNsy

— 𝕹𝖎𝖙𝖍𝖎𝖓 $สϻ_𓃵 (@realpravi92) April 26, 2022
From last 12 years we are doing the same thing.. everytime we get things wrong

— prabhanjan (@BmPrabhanjan) April 26, 2022
Everyone to RCB#IPL2022 #RCBvRR pic.twitter.com/SXsiFQF2h0

— RVCJ Media (@RVCJ_FB) April 26, 2022
Disgraceful batting performance by @RCBTweets. #RCBvsRR @IPL

— Sachin Jerry (@jerrysachin_198) April 26, 2022
rcb fans every ipl season: pic.twitter.com/hQKgE0HjIg

— Tumhari Dhadkan (@aint_your_man) April 26, 2022
*JUST IN*
RCB's new official partners#RCBvRR #IPL2022 pic.twitter.com/DR9lZ1PEsA

— Kaur rmn (@theHeartyouOwn7) April 26, 2022
https://twitter.com/shivatripathii/status/1519017889583583233