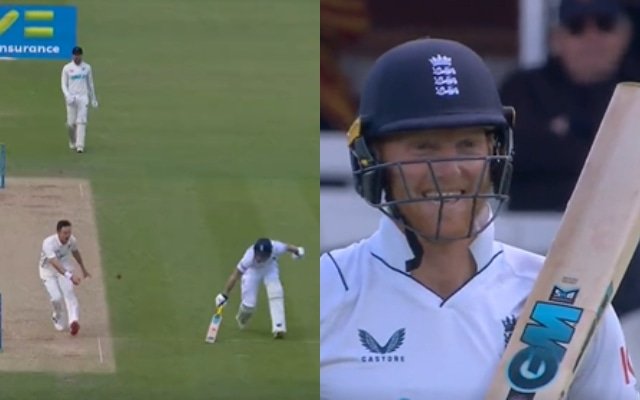 Who could forget the controversial 2019 World Cup final between England and New Zealand at the iconic Lord's? A match which looked to end up in New Zealand's favour ended up as a tie courtesy of an overthrow off Ben Stokes' bat.
On Saturday, on the 3rd day of the first test between New Zealand and England, a similar incident happened involving Ben Stokes. It instantly reminded everyone of the World Cup final as the crowd cheered while players had a good laugh about it. What made the moment even more worth that it took place at the same venue as the World Cup final.
The memories of the 2019 World Cup final came back to haunt New Zealand as the ball ricochets off Ben Stokes' bat towards the boundary while stealing a run
On the first delivery of the 43rd over of England's 2nd innings, Trent Boult delivered a short of the good length delivery to Joe Root. the compact right-hander pulled the ball towards the deep midwicket but the fielder made a fine stop at the circle and released the ball quickly towards the bowling end.
Ben Stokes, who was trying to steal a quick single at the non-strikers' end, had to rush back to the crease. Meanwhile, the ball hit his bat as the left-handed southpaw was sliding his ball into the crease and went towards the boundary.
The incident immediately reminded everyone of the 2019 World Cup final where a similar incident snatched the victory away from the Kiwis. The newly-appointed English Test skipper, Ben Stokes, put his both hands up and apologized instantly and also refused to take any runs of the overthrow. The players alongside the spectators and the commentators also had a good laugh about it.
Watch the video here:
If you know, you know 😅

🏴󠁧󠁢󠁥󠁮󠁧󠁿 #ENGvNZ 🇳🇿 pic.twitter.com/ZyIcvwkk8B

— England Cricket (@englandcricket) June 4, 2022
Meanwhile, the visitors are ahead in the game and looking to wrap up England's batting line-up in the fourth innings. New Zealand posted a total of 277 for England to win the first Test. However, they are 178/5 while chasing the total with Joe Root fighting the battle in the middle.