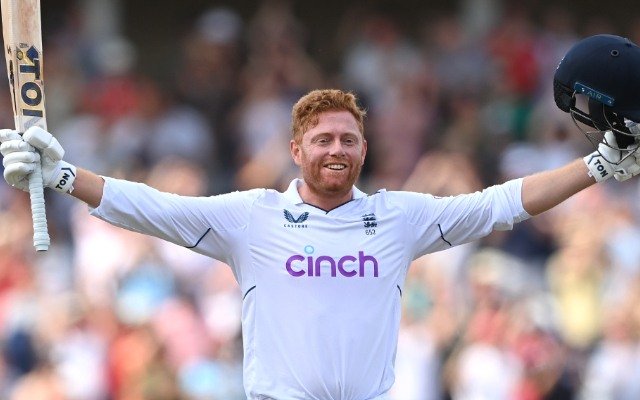 As they say, a team is its manager's image. England Test team has proved the saying correct after blowing New Zealand away in the second Test of the three-match series. There could not be a better beginning to the new era of English cricket under Brendon McCullum as the English side chased 299 runs in just 50 overs on the final day of a Test.
With this win, England have secured the series already with a 2-0 lead against the reigning Test champions. England and New Zealand were up against in the 2nd Test of the three-game series at the Trent Bridge, Nottingham. The Kiwi skipper Tom Latham won the toss and elected to bat first.
Riding on brilliant twin-centuries from Daryl Mitchell and Tom Blundell, the visitors posted a mammoth total of 553/10 in the first innings. In reply, Ollie Pope and the former skipper Joe Root emerged as the saviours with the respective centuries as the Brendon McCullum's men managed to score 539/10.
New Zealand began the second innings with a slender lead of 14 runs. With the help of some handy contributions from Daryl Mitchell, Devon Conway, and Will Young, the Kiwis posted a 284/10 as they gave England a total of 299 to chase in 72 overs.
England begin Brendon McCullum's era with a bang
Little did the Kiwis know that this English team will go for the kill. On Tuesday, they were struck by a thunderstorm named Johnny Bairstow. The destructive batter smashed the 2nd fastest Test century by an Englishman off 77 deliveries to help his team to pull off a miraculous victory.
The skipper Ben Stokes also contributed vital runs with his willow as he remained unbeaten for 75 runs to help his team secure the win. This is a win for ages and has Brendon McCullum written all over it. It is a win that has come after a long time of sheer hopelessness and heartbreaks for the English Test cricket.
While the players played a major role in the victory, the fans could not stop themselves from praising the former New Zealand skipper and England's current head coach Brendon McCullum.
Check out the best reactions here:
June 2021: NZ set Eng 273 in 75 overs. Eng bat out a draw scoring 170/3 (70).

June 2022: NZ set Eng 299 in 72 overs. Eng chase it down in 50 overs!

What changed? Mindset. #ENGvNZ pic.twitter.com/zOMbJMB51I

— Wasim Jaffer (@WasimJaffer14) June 14, 2022
This is utterly ridiculous .. Last time I saw this type of drama was in 2019 when Jonny was sat on the balcony watching Ben .. Now Ben has the best seat in the house watching Jonny .. #ENGvNZ

— Michael Vaughan (@MichaelVaughan) June 14, 2022
The best format of the game ,Test cricket #ENGvNZ https://t.co/FHAvyYkXx8

— Monty Panesar (@MontyPanesar) June 14, 2022
What a test match!!!!

— Matthew hoggard (@Hoggy602) June 14, 2022
What a win @englandcricket! Phenomenal 🔥

— Jos Buttler (@josbuttler) June 14, 2022
🤯🤯 @englandcricket!!!

— Kate Cross (@katecross16) June 14, 2022
The New England era under Ben Stokes and Brendon McCullum starts with a series win over reigning world test champions New Zealand 👏🏽👏🏽👏🏽 https://t.co/4BlfupJzbE

— Manasi Pathak (@ThatUnitedLady) June 14, 2022
They say that teams mirror the managers personality.

Safe to say its true with this England side, its very much a Brendon McCullum team.#ENGvsNZ #BBCCricket

— Ian Gobo Funnell (@gobofunnell) June 14, 2022
Ben Stokes + Brendon McCullum = Champagne Cricket #ENGvNZ 🍾

— Contador (@MontVentoux80) June 14, 2022
They were facing the reigning World Test champions.

They watched the visitors chalk up a mammoth total of 553 after the 1st innings.

They needed 299 runs on the final day.

They never gave up.

Brendon McCullum's England.#ENGvNZ pic.twitter.com/UjiJn7VOvi

— bet365 (@bet365) June 14, 2022
Something tells me that the Brendon McCullum and Ben Stokes era is going to be very very fun! What a win and what a test match. All hope in England red ball cricket is restored. Don't know what we all panicked about!? 🤷🏻‍♂️🙃 #ENGvsNZ

— Tom Wade (@tomjwade) June 14, 2022