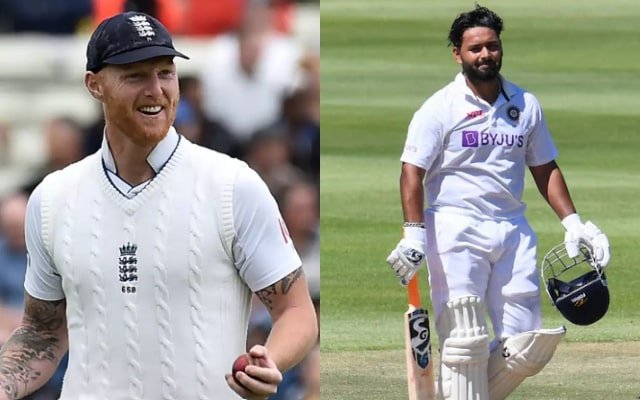 English skipper Ben Stokes has heaped massive praises on Indian wicketkeeper-batter Rishabh Pant following a swashbuckling century in the rescheduled Test at Edgbaston. England have entered the new era of Test cricket under Brendon McCullum and Brendon McCullum to introduce the 'Bazball'.
However, the English side had to face a similar sort of attack in the first innings after picking up five Indian wickets early. The Indian wicketkeeper-batter Rishabh Pant entered the arena and counter-attacked with a destructive century. The left-handed southpaw scored 146 runs off just 111 deliveries to take India to a competitive total.
Pant also smashed a fifty in the 2nd innings to have a great game with the bat. However, Ben Stokes & co. looked invincible in the 2nd innings as they chased down a record-breaking total of 378 in the fourth innings.
"He would fir very well in our team," says Ben Stokes on Rishabh Pant
The new English Test skipper looked elated after winning the game but didn't forget to acknowledge the opposition as well. The left-handed all-rounder praised Rishabh Pant saying the wicketkeeper would fit perfectly in current England's side.
Also Read: "That's the spot where he can blossom" – Wasim Jaffer suggests ideal batting position for Rishabh Pant in T20Is
Stokes spoke after the game and said, "He is someone who would fit very well in our team at the moment, Rishabh, the way that he goes about to play the game."
Ben Stokes further backed Rishabh Pant to play his natural game and pointed out how everyone had been criticizing the wicketkeeper for playing recklessly.
"Rishabh Pant's innings for India in the first innings was obviously against us, but I absolutely loved watching it. Being on the receiving end of something like that is just is incredible to watch. And, it's great to see now that someone like Rishabh, who's obviously received his criticism over the years, is now getting applauded for that," further added Ben Stokes.
India were ahead in the game for most of the part but they were folded for 245 runs in the 2nd innings. Chasing the total, England's batting came out all guns blazing and completed a record-breaking run chase to register a 7-wicket win.
Also Read: Can India still reach the WTC final? Scenarios for Team India to reach the WTC 2021-23 final