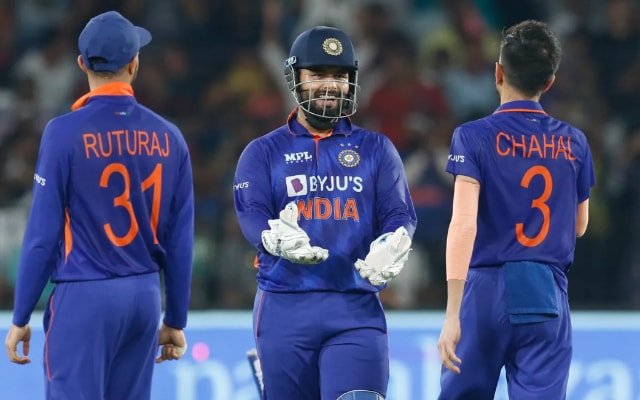 India succumbed to the 2nd consecutive defeat in the five-match T20I series against South Africa as the visitors registered a 4-wicket victory in the 2nd match on Sunday. The makeshift skipper Rishabh Pant had another off day on the field as he scored only five runs off seven deliveries. Moreover, the wicketkeeper-batter once again took some baffling decisions while marshalling his troops.
Barabati Stadium in Cuttack hosted India and South Africa for the 2nd T20 game of the five-match series on Sunday. The visiting skipper Temba Bavuma won the toss and elected to bowl first. His bowling unit backed the decision with a solid performance by restricting India to an underwhelming total of 148/8 in 20 overs. While Shreyas Iyer and Dinesh Karthik were the top performers for the home side, it was a combined effort from the Proteas bowlers.
Chasing the total, South Africa were in a spot of bother after Bhuvneshwar Kumar's opening burst with the new ball. However, Henrich Klaasen decided to counterattack the opposition and smashed 81 runs off 46 deliveries to win the contest for his team. The Proteas won the game by four wickets with ten deliveries to spare. They are now two-nil up in the series and India must win all remaining fixtures to win the series.
Rishabh Pant's captaincy comes under the scanner
The left-handed southpaw was announced as the skipper of the Indian team after an unfortunate injury to KL Rahul. However, things haven't been favourable for the wicketkeeper so far.
Rishabh Pant has failed to score runs with his bat in the first two matches. Moreover, his captaincy has been under the scanner as the young skipper has taken some questionable decisions as well. In the 2nd game, he brought Axar Patel pretty late in the game when he could be used earlier. Meanwhile, Avesh Khan and Harshal Patel also had one over each left.
The fans were not happy with Rishabh Pant's captaincy in the 2nd game and they subsequently slammed the wicketkeeper after the defeat.
Check out the best reactions here:
I don't know why management has given the captaincy to such an waste and careless player like Rishabh Pant.didnt show any intent on the field while batting,..Total waste ..
It's a shame all over #Rishabpant #RishabhPant @RishabhPant17 @BCCI @SGanguly99 @imVkohli @ImRo45

— Arshad (@who_sane24) June 12, 2022
I think BCCI has to withdraw Rishabh from captaincy. #RishabhPant

— Kumar Sanjay_786 (@sanjayk42947892) June 12, 2022
#RishabhPant doesn't know anything about captaincy. I was a better captain than him in my gaali cricket. TBH I wouldn't even pick him in other formats. Not all guys standing behind is a captaincy material!!!!

— Barid Baran Bej (@iambarid) June 12, 2022
After last match's disaster y Umran,Bishnoi,Harshdeep,Hooda didn't played 2day?#RishabhPant couldn't understand hw to manage bowler.He can't take Captainship pressure,he can't make on field strategy.Can't understand whn there's #ShreyasIyer y @BCCI is ruining the innings?#INDvsSA

— Sneha Das (@S_DasMe) June 12, 2022
https://twitter.com/indianoceanfrom/status/1536042334361530369
Risabh Pant needs to work on his game sense during batting. Today's pitch did not require bang bang batting. He is captain of Indian team and need to show more responsibility. He can't be a carefree batsman for India. #INDvsSA #RishabhPant #MSDhoni #sportstak #CricketTwitter

— Pankaj Kumar Sinha (@PankajK81742908) June 12, 2022
#RishabhPant is genuinely the worst choice for a captain. He shouldn't be in the lineup also imho. Our biggest issue is utilizing the talent we have. I back Dravid to get the lineup right for the world cup. We will bounce back stronger. #India #INDvSA

— Vinay Menon (@Perennialbull17) June 12, 2022
@BCCI on what parameters #RishabhPant has been given the captaincy to lead the indian cricket team. Very poor performance in all departments. You have good options around who can lead the team. #dineshkartik playing under him is not fair.

— Arshad Danish (@amdanishg) June 12, 2022
Unpopular Opinion: drop Pant, he is good for tests, save him for that. #INDvSA #RishabhPant #Pant

— Jay Vasdewani (@JayVasdewani) June 12, 2022
For #RishabhPant , things are looking ugly now. Captaincy, batting nothing is working since #IPL
Also, #pandya must be having realisations of level difference b/w ipl & international teams.
Btw, #bhuvi is looking like he's in his own league. 4/13 and all amazing deliveries 🙏🏻

— Arpit verma (@arpit_vermaniac) June 12, 2022