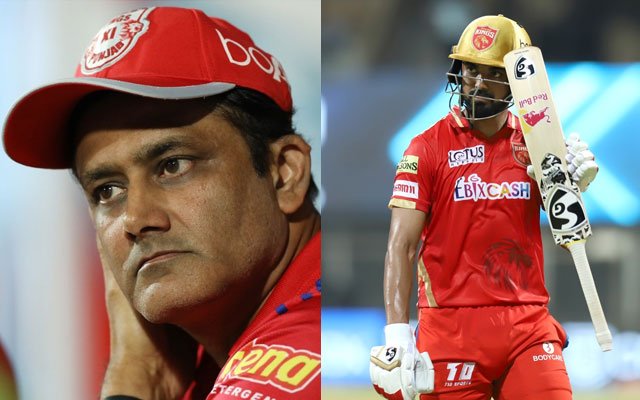 Punjab Kings head coach Anil Kumble has opened up on former captain KL Rahul's below-par strike rate in IPL 2021, saying that he doesn't believe in taking a conservative approach in the shortest format of the game.
Rahul's poor strike rate was one of the talking points as Punjab endured two poor seasons. While KL Rahul and Mayank Agarwal gave good starts consistently at the top, the team faltered in finishing chases or putting up par scores on the board on most occasions.
The middle-order looked shaky, forcing Rahul to hold one end by opting for a more reserved approach with the bat. However, Anil Kumble has asserted that it wasn't forced by the management on KL Rahul.
Speaking to Hindustan Times, the former Indian captain said, "No, I don't think we ever wanted any player to restrain himself. In this format, I don't think you can take a conservative approach. The natural ability of a Mayank or a Shikhar (Dhawan) is to attack. Even with the rest of the players, I don't think there will be any approach to curb their natural instincts. That has never been my approach at all."
Meanwhile, KL Rahul has parted ways with the Punjab franchise and will lead Lucknow Super Giants, when IPL 2022 kicks off on March 26.
"It is a fresh start for all 10 teams" – Anil Kumble on Punjab Kings chances in IPL 2022
Yet to win an Indian Premier League (IPL) title, Punjab Kings roll into the 2022 season with plenty of fresh faces under the leadership of young and dynamic Mayank Agarwal. Meanwhile, Anil Kumble is quite happy with the job they have done at the auctions is looking forward to the season to start.
"It's a fresh start for all the 10 franchises. I think the brand of cricket we wanted to play; we have put together that sort of strategy. We are very happy to be able to get those kinds of players who naturally fit into that strategy rather than force somebody into playing that kind of a role," Kumble continued.
"We looked at strategies to help us achieve the right result. Even when we picked the domestic players, we looked at the roles they could play and that clarity is very important in T20s. At the end, you don't just put together a squad for this year. You invest in a few players who will perhaps be the future," he concluded.