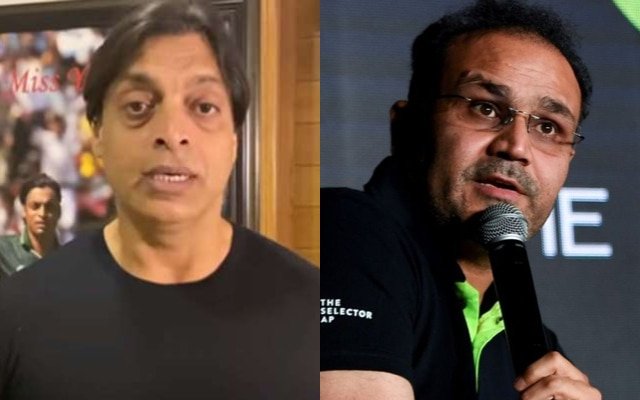 Former Pakistan pacer Shoaib Akhtar didn't hold back and responded fiercely to Virender Sehwag's recent comments over his bowling action. The former India opener recently questioned Akhtar's bowling action by saying that the Pakistan pacer used to chuck.
Virender Sehwag also added that Shoaib himself knew that he used to jerk his elbow.
"Shoaib knows he used to jerk his elbow; he knew he was chucking too. Why would ICC ban him otherwise?" Sehwag says with a chuckle. "Brett Lee's hand came down straight, so it was easy to pick the ball. But with Shoaib, you could never guess where the hand and the ball will come from," said Virender Sehwag while speaking in the third episode of Home of Heroes, Sports18.
For those who don't know, during all of his career, Shoaib Akhtar's bowling action remained under the scanner.  In 1999, the Pakistani pacer faced action from ICC for the first time as he was banned for a month for 'throwing,' and Akhtar subsequently had to remodel his action.
Shoaib Akhtar was banned for the 2nd time in his career a couple of years later in 2001. However, Shoaib Akhtar managed to fight all his miseries and represented Pakistan till 2011. The 'Rawalpindi Express' represented Pakistan in 46 Tests, 163 ODIs, and 15 T20Is. The legendary pacer has accounted for more than 400 wickets across formats in his career.
Shoaib Akhtar responded strongly to Virender Sehwag's comment
A few days after Sehwag's remarks about the pacer's bowling action, Akhtar was asked about the same. While talking to Sportskeeda, Akhtar advised Virender Sehwag to avoid such kiddish statements. However, he also added that the explosive opener is a friend and didn't hesitate from praising Virender Sehwag's contribution to the game of cricket.
"I would request him not to talk about these things. If Sehwag knows more than the ICC or the laws of ICC, then it is fine I accept his opinion. That is his opinion and I can't say much about that, said Shoaib Akhtar.