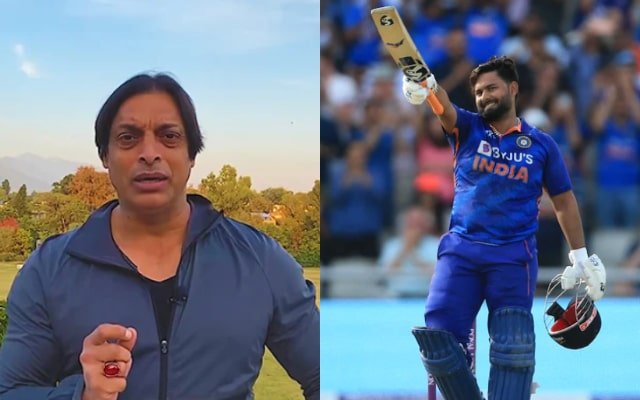 Former Pakistani speedster Shoaib Akhtar has advised the Indian wicketkeeper-batter Rishabh Pant to shed some weight. He did so while heaping praises on the youngster and also called him a fearless cricketer. The Rawalpindi Express also talked about Rishabh Pant's talent and the range of shots the left-handed southpaw possesses.
Shoaib Akhtar was talking about Rishabh Pant's series-winning century in the third ODI against England. He praised Pant for the influence he has had on Indian cricket in the last couple of years across the format. However, Akhtar also added that the young Indian wicketkeeper is overweight and he hoped that Pant will address it soon. The Pacer also went to label Rishabh Pant as 'good looking' and opined that he has the quality to become a model.
Also Read: Reports: Sri Lanka withdraws from hosting Asia Cup 2022 amid ongoing political crisis
"He is a little overweight; I hope he takes care of that" – Shoaib Akhtar on Rishabh Pant
The former fast bowler from Pakistan talked about Rishabh Pant's achievements in Australia and England. He also reckoned that the left-handed wicketkeeper-batter is now becoming a superstar in India, hence, he should take care of himself.
"He won the (Test) match in Australia, he won the match here (in England) and took India to a series victory single-handedly," added the former pacer. "He is a little overweight. I hope he takes care of that. Because the Indian market is big. He's good-looking. He can emerge as a model, earn in crores. Because whenever a person becomes a superstar in India, a lot of investment is made on them," said Shoaib Akhtar on his YouTube channel.
On July 17th, Rishabh Pant became the saviour with an unbeaten century of 125 runs off 113 balls. He helped the Indian team to complete the five-wicket victory while chasing a total of 260 runs. In the process, the Men in Blue also sealed the three-match ODI series 2-1. Rishabh Pant, subsequently, won the player of the match award for his heroics.
Also Read: Jason Roy, Reece Topley, and Laurie Evans talk about their Surrey and England's teammates