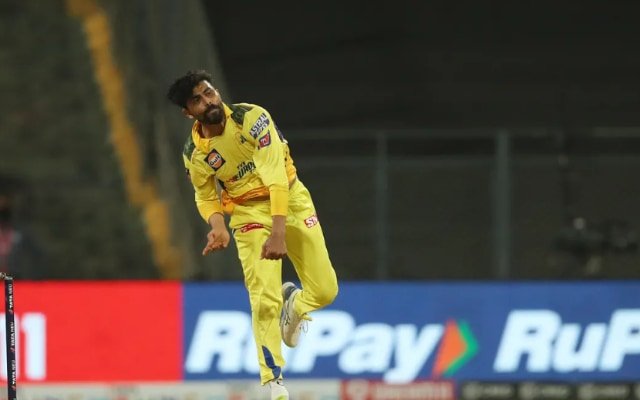 Nothing has been working for Chennai Super Kings and Ravindra Jadeja so far this season. The newly-appointed skipper is under hot waters and facing a serious backlash from pundits and fans after CSK's poor run in the tournament.
On Monday, Chennai Super Kings notched up their sixth loss of the season in eight games, taking them on the verge of the elimination. The Yellow Army has to achieve the unthinkable from here by winning the all remaining six games to qualify for the playoffs.
While it certainly is not impossible, there is an Everest to climb, given CSK's current form. On Monday, it was a battle between two kings, Punjab Kings and Chennai Super Kings. Punjab Kings had defeated the four-time champions by 54 runs earlier in the tournament.
Chennai Super Kings and the skipper Ravindra Jadeja were itching to avenge their loss in the reverse fixture while bringing their campaign back on track. However, things didn't go as planned, and Punjab Kings completed a season-double over the rival Kings with an 11-run win.
Fans blame Ravindra Jadeja for the loss
Jadeja invited Punjab Kings to bat first after winning the toss. Riding on Shikhar Dhawan's stupendous unbeaten knock of 88 runs of 59 deliveries, the Kings from Punjab posted 187/4 in 20 overs.
Chasing the total, CSK were off to a difficult start, but Ambati Rayudu's onslaught brought them back into the game. However, the right-handed batter didn't get enough support from the other end as the Super Kings fell 11 runs short of the target.
Skipper Ravindra Jadeja remained unbeaten for 21 runs off 16 deliveries in the end. However, the fans pointed out Jadeja's slow knock and blamed him for another embarrassing loss.
Check some reactions here:
Ravi Jadeja has been so disappointing, there was lots of hope especially the way he has been batting in last few years but in 2022 he has been under par so far for CSK.

— Johns. (@CricCrazyJohns) April 25, 2022
Worst selfish captian ever in IPL history #RAVINDRAJADEJA

— Mani Puppala (@ManiPuppala5) April 25, 2022
Jadeja literally pulled CSK down from the winning track singlehandedly!!….Rayudu's knock was 🔥 #CSKvPBKS #AmbatiRayudu #RAVINDRAJADEJA

— Kaur rmn (@theHeartyouOwn7) April 25, 2022
Another Worst Performance from #CSK𓃬…#Jadeja became Kedar Jadhav for #CSK. Time to change Captaincy. Unable to handle pressure.

Congratulations #PBKS…#CSKvPBKS#ThalaDhoni#RavindraJadeja

— Ar_Kumar (@ArKumar62191844) April 25, 2022
Captaincy pressure is haunting down #jadeja performance, he is struggling to concentrate on all 3 aspects of the game. #CSKvPBKS #ravindrajadeja #CSK𓃬 #IPL2022

— Narayananivas (@narayananivas) April 25, 2022
The main culprit is @imjadeja .
He is not a captaincy material.#jadeja #ravindrajadeja#jaddu#TATAIPL#CSKvPBKS #PBKS #IPL2022 #IPL pic.twitter.com/sQoZyQvnmn

— Girraj sharma🇮🇳 (@girrajsharma785) April 25, 2022
After becoming the captain of CSK Ravindra Jadeja has forget to bat and bowl..
What type of performance he is giving ??#CSKvPBKS #ravindrajadeja #jadeja @ChennaiIPL @IPL

— Singh_Ankit (@Salient_Tweets) April 25, 2022
Jadeja as player vs Jadeja as Captain #CSKvPBKS #ravindrajadeja pic.twitter.com/RTM1TWwVTJ

— Shivam Pratap Singh (@Shivampratap018) April 25, 2022
#RavindraJadeja#CSKvPBKS bravo and pretorius should bat in front of him, but each and every time he comes we lost for his poor batting, strike rate not even touch the 100 in this season, not hit a single six… Worst

— prabhu-g😍😊😘 (@naveenp32360218) April 25, 2022
Neither He can Bat nor He can Bowl.
He has also forgotten Fielding…@ChennaiIPL , Change the Captain
@IPL #ipl #ravindrajadeja #jadeja #dhoni #tataipl #CSKvPBKS https://t.co/neFjQs65JO

— Adarsh Choudhary (@CricketAdarsh) April 25, 2022
As a major cause of concern for CSK and the Indian team, Jaddu is struggling badly in both departments this season. He hasn't been scoring runs despite regularly batting at number five, and neither has he been effective with the ball.
Ravindra Jadeja has scored 112 runs and picked up only 5 wickets in 8 matches so far.