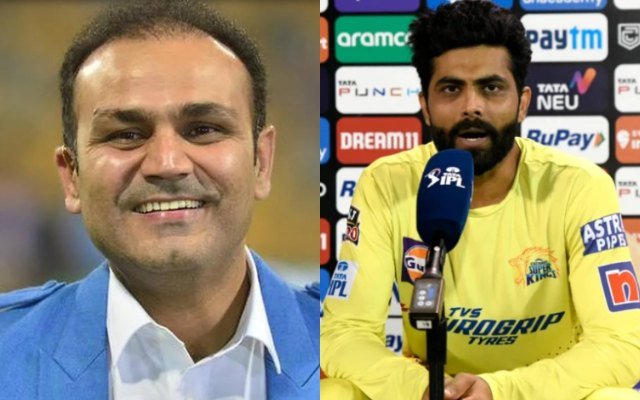 Former India opener Virender Sehwag has advised CSK's new skipper Ravindra Jadeja "put his phone on Airplane mode" amid a horrible start in the IPL 2022.
The explosive opener said Jadeja must avoid media for the rest of the season. He also added if Jaddu focuses too much on the criticism around then he won't be able to focus concentrate on the field.
Virender Sehwag was talking to Cricbuzz when he opined "My advice for Jadeja would be that these things will continue, don't pay heed to them. If you think about that, you won't be able to concentrate on the field because whenever you make a decision, you'll continuously think, 'What will they say? What will the fans think? What will the teammates think?' You won't be able to take the right decision through all that."
"Put your phone on Airplane Mode. No one gives newspapers during this Covid phase anyway, you can keep your TV off. So just stay in your room and enjoy. The more you'll read and watch these things, the worse your mind will get. Whenever you want to update your social media, put the phone out of the Airplane mode and do that then put it back," added Sehwag.
Virender Sehwag also gave examples of the senior Indian players and legends like Sachin Tendulkar, Rahul Dravid, MS Dhoni and Yuvraj Singh to elaborate his point further.
"I have seen it with Tendulkar, Rahul Dravid, MS Dhoni, and Yuvraj Singh – whenever they go through a tough phase, they don't look at their mobile phone, TV, or newspaper. I feel he should practice, play video games and have fun," concluded Virender Sehwag.
Ravindra Jadeja and CSK need a special effort now
Chennai Super Kings are onto their worst-ever start in the league after failing to open their account after four matches. The Yellow Army is languishing at the bottom of the points table with four losses in four matches. While the Super Kings could still qualify from here, they will need a special effort. The Chennai-based franchise must win 8 out of the remaining 10 matches to win from here.
Ravindra Jadeja also needs to elevate his game as the pressure of captaincy seems to hurt his personal performances. Jaddu has scored 66 runs in 4 matches and only picked up one wicket with the ball.
However, Virender Sehwag refused to rule out Chennai Super Kings just yet.
"I always give the example of how Punjab (Kings XI Punjab then and Punjab Kings now) dug their own grave. They won six out of seven matches, needed one match to qualify, and didn't win even one game after that and didn't qualify. These guys (CSK) have lost only three. We've seen Mumbai qualify after losing five matches. These teams that were so good, their performance and thinking also stuttered."
Virender Sehwag also added that Chennai Super Kings will need Mahi's luck on the -toss to get out of this mess.
Till last year, Chennai's openers Faf du Plessis and Ruturaj Gaikwad used to give great starts. They didn't have any issues in the batting and the small things in bowling they used to manage because of Deepak Chahar's early strikes. This time both batting and bowling aren't doing well. So we are not seeing the Chennai of old. If they play as a unit, it's not like they can't qualify. They can but just need MS' luck factor at the toss."