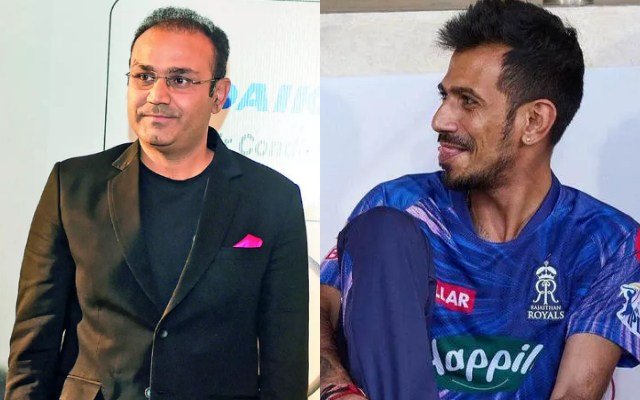 Former Indian opener Virender Sehwag has urged Yuzvendra Chahal to expose the name of the Mumbai Indians' player from spine-chilling encounter that happened during IPL 2013 season. India's veteran leg-spinner represented Mumbai Indians in only one game in three-year spell.
During his stint at MI, he faced a near-death experience, one that he would never forget, as it taught him a big lesson. In a Twitter video uploaded by Rajasthan Royals, he recalled the horrifying episode that happened in 2013.
Yuzvendra Chahal, who is a prankster himself got the taste of his own medicine but in a rather serious way that he didn't expect. A player from MI misbehaved with Chahal by playing a prank on him. What started as a prank turned out to be a near-death experience for the leg-spinner.
Virender Sehwag wants Yuzvendra Chahal to reveal the name of the player
Yuzvendra Chahal went on to brief about his narrow escape from the balcony, in what was a sigh of huge relief. Nonetheless, the leggie was in no mood to disclose the name of the player, who took him outside and then dangled him from the 15th-floor balcony of a Bengaluru hotel. The player who was drunk couldn't help but play a prank on Chahal.
However, things could have been a different one altogether had there been a slightest of mistake. "My hands were around him. Had I lost my grip, I was on the 15th floor. Suddenly many people who were there came and got the situation under control.
"I kind of fainted. They gave me water, then I realised how responsible you should be if you go out anywhere. So, this was one incident where I felt I made a narrow escape. Had there been the slightest of mistake, I would have fallen down," he added.
Chahal's tweet spread like wildfire on the internet. His tweet also caught the attention of Virender Sehwag as he wanted the leggie to reveal the name boldly.
"Important to reveal name of player who as per Chahal did this to him in a drunk state. If true, this cannot be treated as fun, important to know what happened and what action was taken considering the seriousness of this," Sehwag said in his tweet.