"Cricket is a funny game"- someone rightly said but forgot to state that it can get hilarious even off the field. Cricket has a full repertoire of hysterical events- funny catches, funny celebrations, and funny imitations. But did you ever wonder that there can even be bizarre prizes or awards given to the players which will leave you in splits?
Well, ever since the ritual of felicitation of the players started in the form of Awards like- Man of the Match/ Series, from a "Rice Cooker" to a "Luxurious Car", we have seen all. In a game where the boards, franchises and others splurge money insanely, who would have thought that the player's blood and sweat will be compensated with such amusing gifts?
If we play the rewind button and run down the memory lane, we will find a few such awards which left the fans in stitches. Sachin Tendulkar received a champagne bottle in 1990 before he turned 18. Allan Donald received a jewellery box as a man of the tournament award in 1996. But such instances have been completely omitted now.
We have got top 5 likewise weird Man of the Match/ Series awards:
1. Luke Wright received a blender in Dhaka Premier League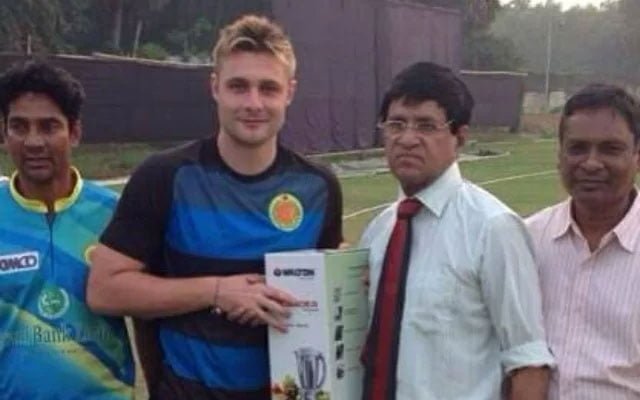 The right-handed English batsman Luke Wright was probably known for his potent hitting skills. He blended in at any position for whichever team he used to play. Also, he was more than a handy bowler. He made his international appearance in 2007 and last played for England in 2014. In a span of 7 years, Wright played only 50 ODIs and 51 T20s.
With his type of game more suitable for the shortest format of the game, Wright dedicated his career to T20s more. He played franchise cricket all around the globe and earned a name for himself. Although, one of the most bizarre incidents in his life would be an award of a "Blender"
While playing in the Dhaka Premier League, Luke Wright was once awarded a Blender as the Man of the Match award for his commendable performance on the field. With the utmost respect for the game, Wright embraced the award and even posted the photo of the same on his Twitter handle. He tweeted "Pleased we won my first match for Abhanai today. Have to say I have never been given a blender for MoM before".