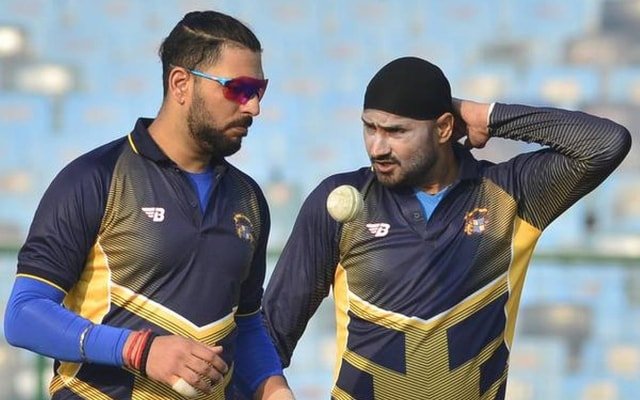 Former Indian off-spinner Harbhajan Singh has suggested that Yuvraj Singh would have been a great captain if given an opportunity to lead India. He also added that his career would have not gone for so long as it was if Yuvi had been the skipper.
Harbhajan Singh made his debut for India in 1998 and the legendary off-spinner went on to represent the national side till 2016. He has also reckoned that during his playing career, every captain picked him for the team based on merit and performance. Talking about the captains, Bhajji stated that it is vital for any skipper to put the team ahead of anything else. Moreover, he further added that no captain saves any player from getting dropped from the side.
Friendships must be kept aside when leading the country: Harbhajan Singh
In a recent conversation with Sportskeeda, the former off-spinner opened up about his early cricketing days, captaining India, and his friendship with Yuvraj Singh.
"I don't think any of our careers would have been prolonged had Yuvraj been the captain. Because whatever we have played we have done it on our ability and no captain has saved us from getting the axe. Whenever you captain the country, you need to keep friendships aside and think of the country first," said Harbhajan Singh.
"If Yuvraj Singh would have been Indian captain, we would have had to sleep early and wake up early (laughs). We would have to do a lot of hard work. He would have been a great captain. His records speak for themselves as he won the Player of the Tournament in the 2011 World Cup, a title that gives us respect," he further added.
Talking about his early cricketing days, the offie revealed that he always wanted to be a batter and fast bowler.
"I started off as a batter but was also a fast bowler. Don't know how I ended up as a spinner. But probably when I was asked what I do, I should have said that I bat. Because when you're a batter and play for India, whole world is at your feet. You will hardly find a bowler being a 'superstar' as this is the batter's game. People want to see fours and sixes hit," Harbhajan Singh concluded.
For the unversed, Bhajji and Yuvi are great friends off the field as well. Coming from the same state Punjab, they have played together for most of their career. Both players were also a part of India's 2011 World Cup-winning squad, where Yuvraj Singh emerged as the Man of the Tournament with his magical performances consistently.