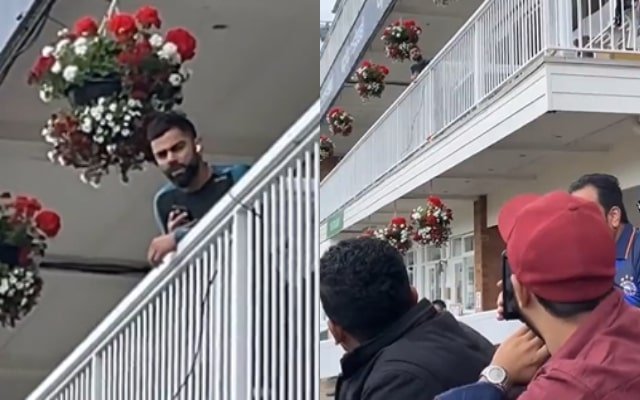 Team India's batting superstar Virat Kohli recently got furious at a spectator who allegedly bullied Kamlesh Nagarkoti for a picture during the ongoing warm-up game between India and Leicestershire.
A video is currently going viral on social media in which the former India skipper could be seen schooling a fan over his behaviour with the young Indian pacer. The fan can be heard explaining to Kohli that he only wanted to click a picture alongside Kamlesh Nagarkoti but the Indian youngster didn't comply.
"Has he come here for you?" – Virat Kohli gets angry with a spectator
During the exchange with the India run-machine, the spectator mentioned that he had come to watch the match after taking a leave from his job. Hence, he deserved to get a picture alongside Kamlesh Nagarkoti. Virat Kohli responded by saying that the youngster had come for the game and not for a particular person.
Virat Kohli could be heard saying, "Has he come here for you? He is here for the match."
Watch the video here:
People talk about Surya Kumar yadav incident on how arrogant and egoistic Virat Kohli treat youngsters
But no one will talk about this where Kohli got angry when crowd was bullying nagarkoti in recent practice match❤️ pic.twitter.com/TdIeUSPLTA

— akshat (@ReignOfVirat) June 25, 2022
In case you don't know, Kamlesh Nagarkoti is not a part of the Indian squad for the rescheduled Test against England. However, he is travelling with Team India as one of the net bowlers.
Meanwhile, Virat Kohli spent a much-needed time in the middle during the first innings of the warm-up game. He played 69 deliveries for 33 runs, including four boundaries and a maximum before getting dismissed.
He improved further in the 2nd innings. At the time of the writing, the former India skipper is currently batting at a score of 45 runs off 63 deliveries. India will hope to get the best of their superstar to take on an in-form England side that has demolished New Zealand in the ongoing Test series.
Also Read: It won't be easy for Ravindra Jadeja to replace Axar Patel in T20 World Cup squad – Sanjay Manjrekar