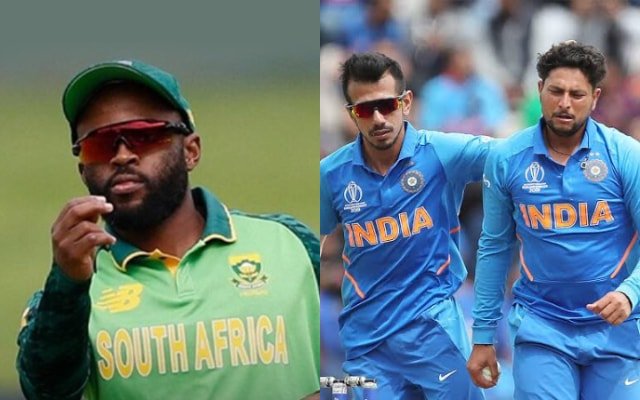 South African skipper Temba Bavuma has admitted that South African batters are keenly studying the Indian spin-duo of Yuzvendra Chahal and Kuldeep Yadav. He also has added that both wrist spinners are difficult to tackle hence the batters don't feel comfortable while facing them.
India and South Africa are all set to lock horns in the first T20 game of the five-match series on Thursday at the Arun Jaitley Stadium, New Delhi. South Africa have landed with a full-strength squad for this tour. Meanwhile, some big names including, Rohit Sharma, Virat Kohli, Suryakumar Yadav, Mohammad Shami, and Jasprit Bumrah are missing from Team India.
However, the KL Rahul-led side still is pretty strong and an even contest is expected in five matches. The last time these two sides met in the T20 format, South Africa emerged winners on their soil.
Temba Bavuma explains why their batters are preparing for Yuzvendra Chahal and Kuldeep Yadav
Yuzvendra Chahal and Kuldeep Yadav have forced their way back to the Indian squad with a solid IPL season. While, Chahal won the Orange Cap with 27 wickets against his name, Kuldeep managed to clinch 21 wickets.
Now, the South African skipper, Temba Bavuma, has explained why Proteas batters are hesitating to face deadly spin-duo.
"We have played against them (Kuldeep Yadav and Yuzvendra Chahal) a couple of times, and one hopes that this time we have a better understanding. The guys are individually speaking about them, discussing in team meetings," revealed the Proteas skipper ahead of the first game.
"They will have their individual ways of approaching spin and how they can be successful against the pair. For the younger guys, it will be important how they receive the knowledge that the seniors share. But, the way we have played slow bowling over the last 18 months or so, as a group, it gives us a lot of confidence and self-belief that we can dominate spin bowling this time (in India)," Temba Bavuma concluded.
On Thursday, both teams will try their best to begin the T20I assignment positively by winning the first game.