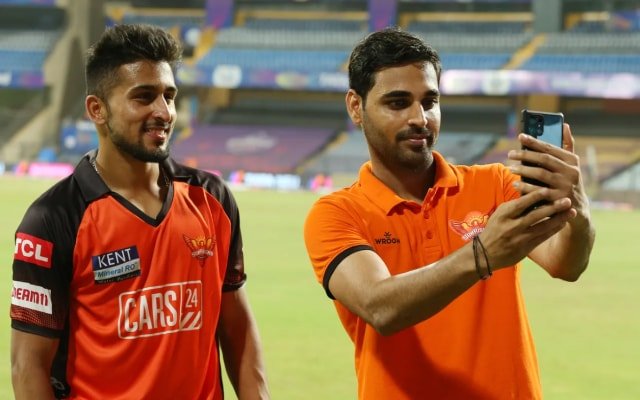 Indian latest pace sensation Umran Malik has quashed his comparisons with the legendary Pakistani pacer Waqar Younis and revealed his bowling idols, including Jasprit Bumrah, Mohammad Shami, and Bhuvneshwar Kumar.
Umran Malik garnered a ton of limelight during the recently-concluded Indian Premier League 2022 courtesy of his express pace and ability to bowl consistently over 150 kph. Moreover, he accounted for 22 wickets in 14 matches for Sunrisers Hyderabad and also won the 'Emerging Player of the Season' award.
Such were the performances of Malik in the IPL 2022 that the national selectors called him up for the Indian team for the South Africa series. Meanwhile, the young pacer is also getting compared to the former Pakistan seamer Waqar Younis courtesy of a similar bowling action and express pace.
Now, the Jammu Express has opened up about the comparisons and also revealed that he has never followed Waqar Younis's bowling.
Jasprit Bumrah, Mohammad Shami, and Bhuvneshwar Kumar are my idols, says Umran Malik
While talking at Indian Express Idea Exchange, Umran told about his bowling idols.
"I have not followed Waqar Younis. I have a natural action. My idols include (Jasprit) Bumrah, (Mohammed) Shami and Bhuvneshwar (Kumar) bhai. I used to follow them when I was playing while coming through the ranks," said Umran.
The 22-year-old also spoke about his national selection and how he is trying to stay calm and not get carried away.
"There's no point getting carried away. If it is destined to happen, it will Inshallah. I want to do my best for my country. I have got an opportunity in these five (T20I) matches (against South Africa). My goal will be that we win all five matches, I perform well and single-handedly win those games for India," added Umran Malik.
The express pacer further talked about his life beyond IPL and thanked the fans for all the love and support he has been receiving from all the corners of the nation.
"Firstly, I am really grateful for all the love and respect that I have been getting from all over India. Relatives and other people keep coming home, it feels very good. I have been a bit busy after the IPL, but have not missed training and practice," concluded Umran Malik.