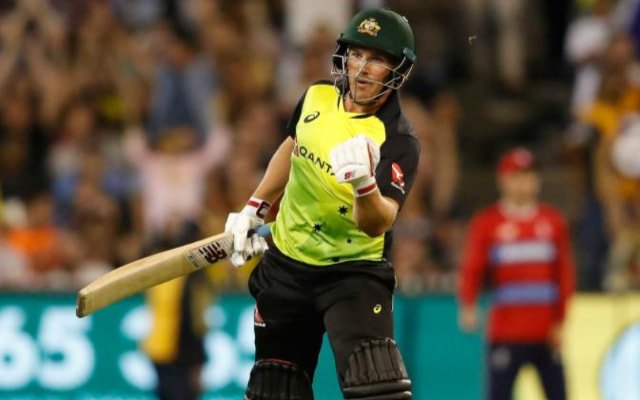 While Australia is preparing to host the 8th edition of the ICC T20 World Cup October-November later this year, the country's white-ball skipper Aaron Finch has dropped a bomb hinting at the retirement of many senior and ageing members of the Australian team after the tournament.
The Aussies will be entering the tournament as the defending champions as they were crowned as the T20 champions for the first time last year after defeating the arch-rivals New Zealand in the final in the UAE. This time, they will be playing in front of their home crowd and Aaron Finch is hoping for a fairytale finish by defending the title and lifting the T20 World Cup at home.
Now, the 35-year-old Australian skipper has said that the tournament could be the last hoorah for him and his ageing teammates. Australia's hero from the last T20 World Cup, Matthew Wade has already announced his retirement after the upcoming ICC T20 World Cup. Meanwhile, the left-handed opener David Warner might also hang his boots in the shortest format of the game.
"It might be a full stop on everything (several players retiring from T20Is, including him) if it goes to plan like that. Fairy tales can happen in sports. I think, just naturally, when guys get to their mid-30s, it's going to be that way. Davey (Warner) just keeps going; he could play for another 10 years, I think, with how fit he is and how much he loves the competition and continuing to challenge himself," said Aaron Finch while talking to cricket.com.au during the event organized to celebrate the 100-day countdown to the 2022 T20 World Cup on Friday.
Also Read: "All OK. Nothing is wrong," CSK deny any rift between Ravindra Jadeja and franchise
"It's going to be an incredibly tough competition" – Aaron Finch shares his views on the T20 World Cup
The Aussie skipper also shared his views on the tough format of the competition and how it will be a difficult task to defend the title on the home turf. He also cited the example of South Africa from the last season who could not make it to the semifinals despite winning four of five group games.
"It's going to be an incredibly tough competition. We saw how brutal the format is with South Africa winning four out of their five games at the last World Cup and still not qualifying on net run rate. It's just so brutal that you do need a bit of luck along the way. So let's see," concluded Aaron Finch.
Also Read: "If Ashwin can be dropped from Test side, then why not Kohli," Kapil Dev questions Virat Kohli's place in Indian team