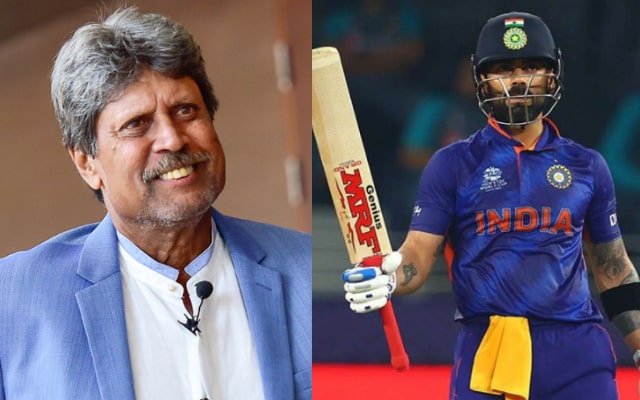 With the T20 World Cup fast approaching and youngsters performing well, Virat Kohli's extended struggle with the bat has raised questions about his place on the Indian side. Now, the former Indian skipper Kapil Dev has raised a question mark on Virat Kohli's place in the Indian T20I team citing the example of Ravichandran Ashwin's exclusion from the Test side.
Ravichandran Ashwin is currently the number two ranked Test bowler in the ICC rankings. However, the off-spinner had to sit out in the fifth Test against England. The veteran bowler often doesn't get a chance in playing XI outside Asia. Kapil Dev remarked that if Ashwin can't make it to the Test team, then the place of Virat Kohli in the T20I team should not be a guarantee.
Check here: WATCH: Sourav Ganguly dances on Bollywood songs on 50th birthday in London
"Can't just go by reputation, you've to look at current form," Kapil Dev questions Virat Kohli's place in the Indian T20I team
"Yes, now the situation is such that you might be forced to bench Kohli from T20 playing eleven. If world No. 2 bowler Ashwin can be dropped from the Test side then (once upon a time) world No. 1 batter can also be dropped. Play in-form players when you have loads of options. You can't just go by reputation, but you have to look for current form," Kapil Dev told ABP news.
Virat Kohli, who wasn't a part of the Indian team in the opening T20I against England, is set to return to the playing XI for the last two games. Meanwhile, the former Indian skipper now has requested the national selectors to not pick him for the West Indies T20Is.
The World Cup-winning skipper Kapil Dev expressed his views on the matter and opined that if Kohli is not on the Indian squad for West Indies T20Is that means the selectors are looking to move on from him and decided to drop him considering his form.
"Virat is not batting at a level which we have seen him do over the years. He has made a name because of his performances but if he isn't performing, then you can't keep the performing youngsters out of the team. You can call it rest and someone else will call it dropped. Obviously, if selectors don't pick him (Kohli), then it could be because a big player isn't performing," the legendary Kapil Dev concluded.
Also Read: "What is with all the rest? How much rest do you want?" – Aakash Chopra bashes senior Indian players alongside selection committee