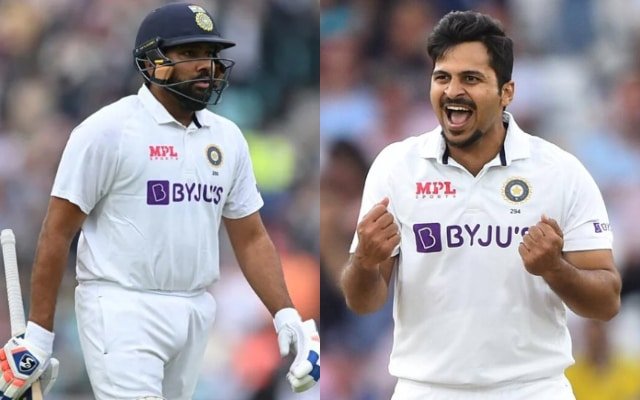 Who could forget the Gabba Test during India's tour to Australia in January 2021? The memory of Rishabh Pant scoring the winning boundary to complete a historic win is still fresh in the fans' memories. During the same game, pace-bowling all-rounder Shardul Thakur played a pivotal role in India's victory under the leadership of Ajinkya Rahane.
Shardul played a vital counter-attacking knock of 67 runs in the first innings alongside three wickets against his name. While he bagged four wickets in the 2nd innings as well, Thakur failed to take India home with the bat after playing a rash shot to get out. Those were tense moments for everyone in the dressing-room, hence, Rohit Sharma got furious over Thakur. In fact, such was the level of the Hitman's anger that he told Ajinkya Rahane that he will teach Shardul Thakur a lesson.
Ajinkya Rahane reveals that Rohit Sharma was angry over Shardul Thakur
"Shardul Thakur was walking in when Washington got out. Rohit told him 'This is your opportunity of becoming a hero'. And he just nodded and left," reveals Rahane in the documentary 'Bandon Mein Tha Dum" currently streaming on VOOT.
R Ashwin explained the whole incident by further adding, "As he was about to go, Rohit said, 'Shardul, finish it.' This is exactly what he said, I totally understand Shardul. He would have imagined… 'like how Ravi bhai said, Dhoni hits a six and wins the World Cup'. So inside Shardul's head, he has already figured out the moment, the commentary, the book the movie, everything. So Shardul's gone for it, it's gone to short square leg and got out. And everybody inside is like What are you doing?"
"Rohit was sitting next to me. He said, 'let the match get over, let us win, I will teach him a lesson. I said 'forget it, we'll see once the match is over," Ajinkya Rahane further added while narrating the whole incident.
Meanwhile, India managed to win the game by three wickets in the end to secure a 2-1 in the Test series. Rishabh Pant was the hero of that unimaginable victory as the left-handed southpaw remained unbeaten for 89 runs to take India home.