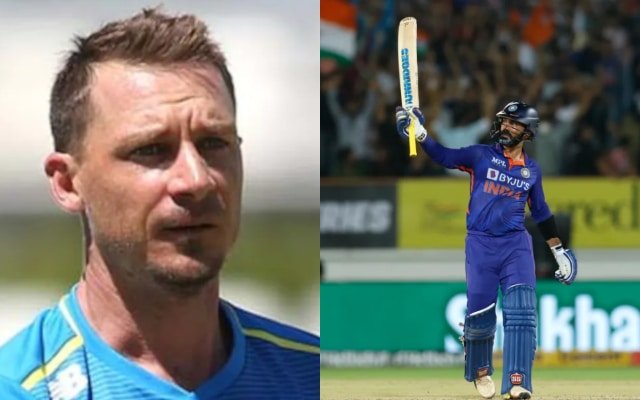 The former South African pacer Dale Steyn has urged the Indian selectors to pick Dinesh Karthik over Rishabh Pant in the T20 World Cup squad scheduled to be played in Australia later this year. The right-handed pacer reckons Dinesh Karthik is ahead of Rishabh Pant based on the current form. According to Steyn, Rishabh Pant is not learning from his mistakes, while Karthik has been making every opportunity count.
Dinesh Karthik is fresh off a match-winning half-century against the Proteas in the 4th T20I. The 37-year-old bailed India out of the trouble and smoked 55 runs off 27 deliveries to take India to a total that proved more than enough for the visitors.
Sharing his views on the Indian wicketkeeper's debate, Steyn has said that India must pick a player based on the current form.
Take Dinesh Karthik to the T20 World Cup instead of Rishabh Pant – Dale Steyn
During a conversation with ESPNCricinfo, the legendary Proteas pacer said:
"Pant had four opportunities in this series, but he just seems to be making the same mistakes. You would think that good players learn from their mistakes. He hasn't and DK has just come out every single time and has shown what a class player he is. If you want to win World Cups, you pick a guy that's in form. If he's in a purple patch or is in red-hot form, you pick that guy," opined Dale Steyn.
Steyn-Gun further talked about Dinesh Karthik's chances of featuring in the upcoming mega-event.
"There are guys that teams will pick on reputation. But, DK is in such fantastic form, if he continues this form, he is going to be one of the first names written down on that plane when India tour for the World Cup later this year," added Steyn
Dinesh Karthik has been a sensational form since the beginning of the recently-concluded edition of the Indian Premier League. He donned the hat of the finisher for RCB and did his job perfectly throughout the tournament. Talking about DK's ability to analyse the game, Dale Steyn said,
"DK has been in phenomenal form and it just looks like he is getting better and better. He's got that great wicketkeeper mentality. He reads the game really well and kind of knows and understands what bowlers are looking to do. And then he backs it up with really good skill."
"His reverse sweeps, his lap sweeps, they are shots being played by someone who understands what the bowler is going to bowl before he has even run-up to bowl. He often attacks the first and last ball of the over. He puts the bowlers under pressure and the guys just don't have an answer for him," Dale Steyn concluded while praising Dinesh Karthik for his shot-making range.