International singer and pop star Rihanna stirred a massive backlash on micro-blogging Twitter platform by posting a tweet in favour of the ongoing farmers' protest in India. Apart from her, young climate activist Greta Thunberg also tweeted in support of the protest. Rihanna's tweet didn't go down too well with former Indian batting maestro Sachin Tendulkar and many other stars including Rohit Sharma, Virat Kohli and others as they criticised the statement by the pop star.
Meanwhile, celebrities were of the opinion that this is an internal issue and the central government should sort out the issue without any outside involvement or intervention. Bollywood celebrities warned the netizens to not let any foreign force divide the nation and also urged the people to stand united in this crisis.
Even such positive words by cricketers didn't go well with several users as they condemned the cricketers of not showing solidarity with the farmers of India and rather than supporting the government in the ongoing protest. Meanwhile, Bollywood actress Kangana Ranaut, who is known for her bold and fearless attitude made the headlines after launching a scathing attack on cricketers.
She was totally unhappy with Indian cricketers for their recent statements over the ongoing protest. Nonetheless, while criticizing the national players, she crossed her limits and posted a shocking tweet on her official Twitter handle where she cited several Indian cricketers as "Dhobi ka Kutta" and silenced them for not expressing their opinions freely.
Twitter deletes Kangana Ranaut's tweet
Kangana had posted the tweet in reply to a message posted by Rohit Sharma. The 33-year-old India's limited-overs vice-captain had written, "India has always been stronger when we all stand together and finding a solution is the need of the hour. Our farmers play an important role in our nation's well being and I am sure everyone will play their roles to find a solution TOGETHER. #IndiaTogether."
In reply, Kangana came up with a derogatory statement. Her statement read: "Why all these cricketers sounding like dhobi ka kutta na ghar ka na ghat ka? Why would farmers be against laws which are revolutionary for their well-being. These are terrorists who are causing ruckus. Say that na…itna darr lagta hai?".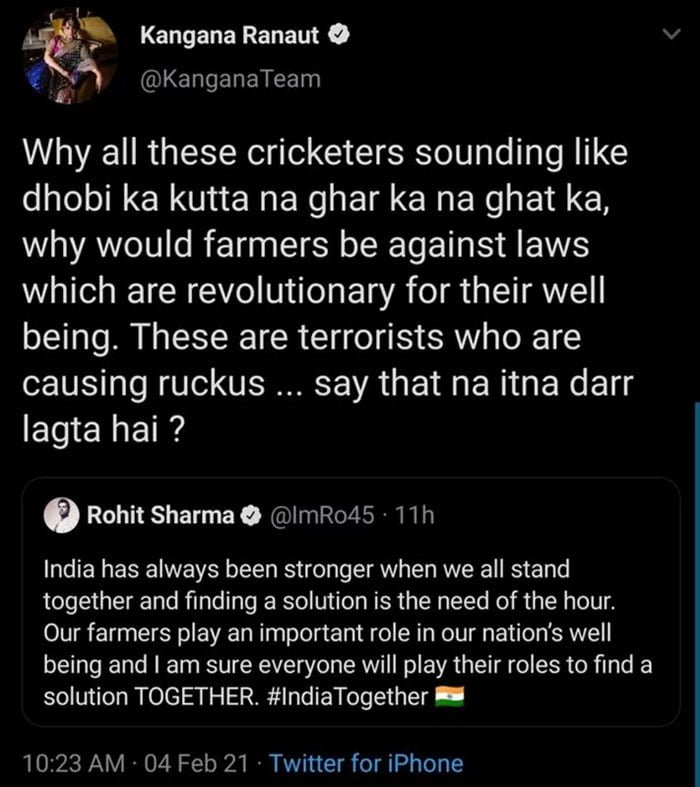 Meanwhile, Twitter portal took note of Kangana's remark and deleted the tweet from the site. "We have taken action on Tweets that were in violation of the Twitter rules in line with our range of enforcement options," Twitter added in a statement.