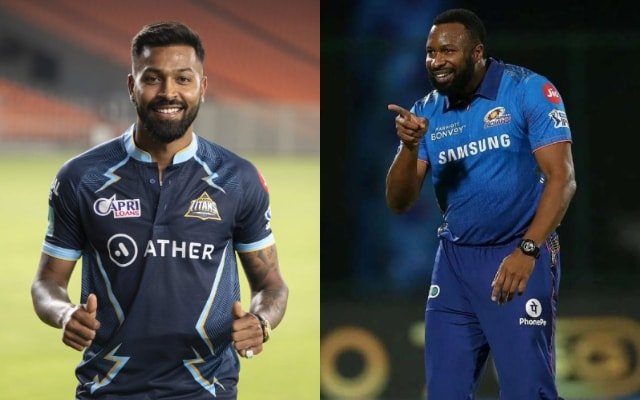 In 2015, a young lad from Gujarat, Hardik Pandya, arrived in the Indian Premier League for Mumbai Indians. He honed his teeth under the shadow of a world-beating all-rounder, Kieron Pollard. Fast forward to seven years, Pandya is captaining the new franchise in the IPL, Gujarat Titans.
The new entrants picked the younger Pandya brother in the pre-auction draft for INR 15 crores. They also appointed him as the side's skipper as Hardik Pandya began a fresh journey in his career.
While Hardik is still not taking any bowling workload in the mega-event, he has been fantastic with the bat. This season, he is the leading run-getter for the Titans, with 333 runs in 10 matches.
On Friday, Gujarat Titans faced Mumbai Indians as Pandya went up against his former side. Ahead of the game, he talked about his long-term teammate and close friend Kieron Pollard.
"You might come to us next year," Hardik Pandya tells Kieron Pollard
"I wish Polly (Pollard) to have the best day for him, but we win. I kind of messaged him a few days as well that hope you're okay and hope you're doing well. I said we kind of miss you here. In a joking way, I said 'You never know, you might come to us next year!' It's my wish but I know it's never going to happen," said Hardik Pandya in a video shared by the Ahmedabad-based franchise.
Pandya won four IPL titles with Mumbai Indians, and the all-rounder expressed his gratitude towards his former team.
"My cap in 2015, it was very important for me. Those two man of the matches were important as the last seven games, for us it was a knockout. I kind of got my first glimpse of success and fame in that game where I scored some three sixes. I think we needed two overs, 32 or something, and we won with three-four balls to spare. "We have created a lot of memories with Gujarat this season, but before that, winning four times will always be special. I find myself very blessed for that opportunity and experience to win four times," said the 28-year-old all-rounder Hardik Pandya.
Watch the video here: