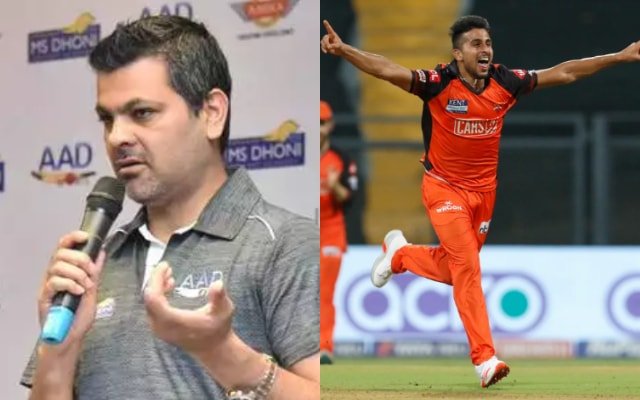 The Sunrisers Hyderabad pacer Umran Malik has taken the IPL 2022 by storm. The youngster has been dismantling the batting units with his sheer pace, and the whole cricket fraternity seems to be in awe of the upcoming superstar. As a result, many voices are echoing for Umran's inclusion in India's T20 World Cup squad to be held in Australia later this year.
However, former India pacer and T20 World Cup winner RP Singh does not favour Umran Malik's inclusion in the Indian team. He cited the youngster's inexperience and the lack of domestic cricket under his belt as the reason. Moreover, RP Singh is not impressed with Malik's consistency just yet and thinks it is still early to take such a big call.
RP Singh was talking to Cricbuzz during the Gujarat Titans and Sunrisers Hyderabad game. Umran Malik was breathing fire on Wednesday as he registered his first-ever five-for against the Titans. The 'Jammu Express' uprooted Shubman Gill, Hardik Pandya, David Miller, Wriddhiman Saha, and Abhinav Manohar on the night.
Umran Malik has accounted for 15 wickets in 8 matches for Sunrisers Hyderabad this season at an average of 15.93. With each passing game, many voices are calling for the pacer's inclusion on the Indian side. Given his express pace, many also believe that he could be India's X-Factor on the Australian wickets.
Rudra Pratap Singh does not agree with the same. However, he still wants India to keep Umran Malik around the squad.
"I am not in favor of that" – RP Singh on Umran Malik's inclusion in India's T20 World Cup squad
In his conversation with Cricbuzz, the former left-arm pacer explained his opinion.
"Umran Malik is surely an exciting talent. He should be kept with the team because then you can groom him while keeping the strength of your bench. You never know who will you need when. But playing him right away? I am not in favor of that because he hasn't played much domestic and even in IPL, he has only just started to do well."
RP Singh also pointed out Umran's high economy rate in the first few matches of the season. He also said that the pacer should be groomed while keeping around the squad as the tour bowler.
"His economy rate was very poor, but in the last 2-3 matches he has pulled it back to around eight. He is on the stepping stones of improvement, if he stays with the team, bowls to world-class bowlers in the nets, he'll get that fine-tuning done. You can keep him in the team for the future but it's perhaps a bit too early to play him." the World Cup winner concluded.