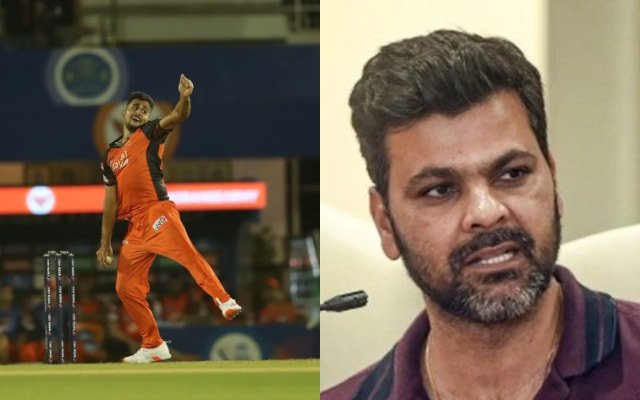 Former India pacer RP Singh believes that Sunrisers Hyderabad pacer Umran Malik got a reality check after an expensive wicketless spell against Delhi Capitals.
In his short career of 13 IPL matches, Umran Malik has impressed everyone with his sheer pace. The youngster has consistently clocked over 150 kph speed this season. In fact, he also bowled a 157 kph bullet on Thursday night against Delhi Capitals to deliver the fastest delivery of the ongoing season.
However, David Warner and Rovman Powell handled Umran's pace easily and smashed the youngster all around the park. Warner smashed Malik for 21 runs in his first over, followed by 11 runs and 12 runs in the next two overs, respectively. When the Jammu Express returned to bowl the final over in the death, Rovman Powell took his case and hit him for 19 runs, including a maximum and three boundaries.
All along, Umran Malik kept increasing his pace while losing control over his lines and lengths. He finished the night with an expensive spell of 52 runs in four overs without getting a wicket.
RP Singh, the T20 World Cup winner for India, has opined that Umran Malik has a lot to learn to grow in his career. He also added that the youngster has to develop his skills and should use his brain while bowling.
Umran Malik got a reality check against Delhi Capitals: RP Singh
"You can see that he's perhaps in the preparation zone for the big stage, but isn't properly prepared yet. He was tried in the powerplay where he got a good drubbing and the same happened in the slog overs. So you need to improve a lot. Pace isn't everything. You are a fast bowler with pace, which is a great thing but you also need some skill and use of the mind to go with that – you should know where to bowl against which batter," said RP Singh while talking on Cricbuzz.
"And you learn that with experience, can't do it after just two-three games, need a lot of time. Umran Malik is on the right path but this was a massive reality check that when you miss even by a small margin, you get a substantial drubbing," RP Singh concluded.