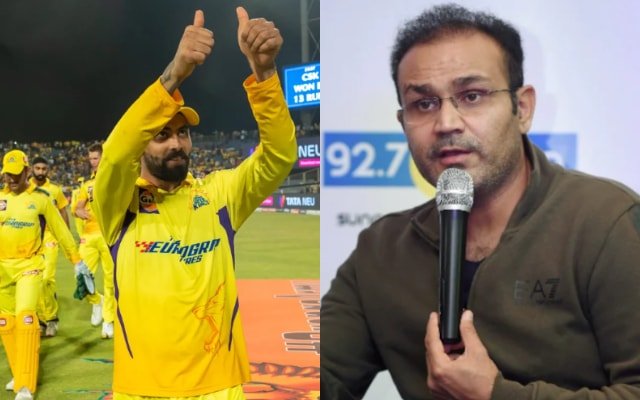 Former Indian opener Virender Sehwag has reckoned that Chennai Super Kings made a mistake by appointing Ravindra Jadeja as the skipper ahead of the IPL 2022. He also added that the franchise should have backed their decision by retaining Jaddu as their captain for the whole season instead of handing over the captaincy back to MS Dhoni.
Chennai Super Kings is one of the most decorated teams in the history of the IPL. They also entered the IPL 2022 as the defending champions. However, things didn't go as per the plan for them as they already have been crashed out of the competition. The Yellow Army sits 7th in the points table with three wins and seven losses after ten games.
For those who don't know, MS Dhoni handed over CSK's captaincy to Ravindra Jadeja ahead of the IPL 2022. The former India skipper wanted a smooth transition of the captaincy as MSD is in the twilight of his career.
However, after a poor string of performances this season, Ravindra Jadeja transferred the captaincy back to MS Dhoni. Former Indian opener Viru has criticized the move saying CSK made a mistake by making Jadeja the new captain.
Virender Sehwag criticizes CSK for appointing Ravindra Jadeja as the new captain 
"The first mistake they did was at the start of the season when they announced that MS Dhoni won't be captaining and it will be Ravindra Jadeja. I think that was a wrong decision. Also, I think, if Jadeja was the captain if he should have been sustained for the rest of the seasons," Virender Sehwag said to Cricbuzz.
"There was no settled playing XI. Ruturaj Gaikwad didn't score runs in the beginning. The batters didn't score runs. In one match MS Dhoni scored. In another match, Gaikwad scored. The match where Dhoni hit boundaries in the last over, that game was also almost lost. They started poorly, then batters did not score, from there on the season went haywire. If Dhoni had been the captain from the beginning then it would've been better and maybe CSK wouldn't have lost the match so many matches," Virender Sehwag concluded.