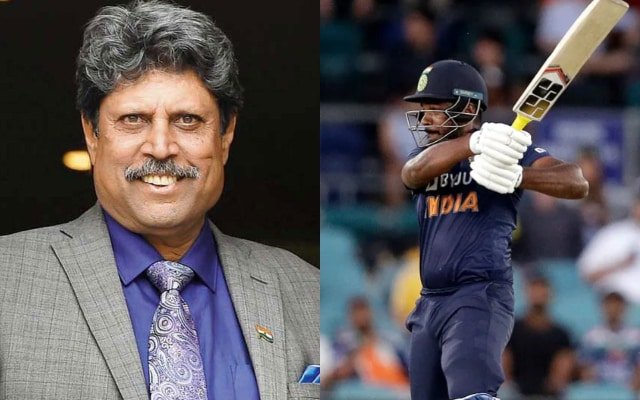 The former India skipper Kapil Dev has slammed the wicketkeeper-batter Sanju Samson for not scoring runs consistently with the bat. The legendary all-rounder usually praises the young crop of Indian cricket and always puts his weight behind the upcoming talent. However, at the same time, he never shies away from bashing someone who is wasting their talent and opportunities.
With the T20 World Cup scheduled to take place in Australia later this year, Team India has to solve their wicketkeeping conundrum. The Men in Blue currently have a luxury of four wicketkeeping options, including Ishan Kishan, Rishabh Pant, Dinesh Karthik, and Sanju Samson. Moreover, India's best T20 batter, KL Rahul, can also play as the wicketkeeper.
"I am extremely upset with Sanju Samson," says Kapil Dev
When asked to pick one wicketkeeper among four superstars, the living legend said that he finds everyone equally capable behind the wickets and with the bat as well. However, he also added that he is extremely upset with Kerala wicketkeeper Sanju Samson over his inability to justify his talent.
"To be honest, if I have to pick a better wicketkeeper between the three (Karthik, Ishan and Samson), I would say they're almost at the same level. I can't say there is much difference. But in terms of batting, each one is better than the other. On a given day, all three can win the match for India on their own accord. If you speak of Wriddhiman (Saha), I would say he is a better batter among the three but the remaining are far superior batsmen. I am extremely upset with Sanju Samson. He is so talented. But the guy scores in 1-2 matches and then fails. Has no consistency," Kapil Dev told Uncut.
Sanju Samson has played 13 T20I games for India, where he has scored only 174 runs. The Rajasthan Royals' skipper is yet to score his maiden half-century in the T20I cricket and he is carrying a miserable average of 14.5 in the T20Is.