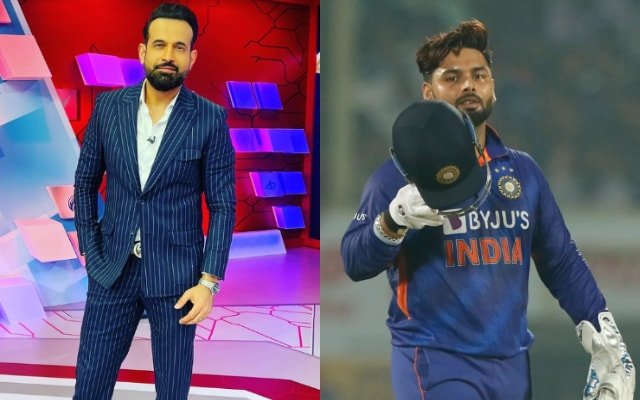 The former India all-rounder Irfan Pathan has warned the stand-in India skipper Rishabh Pant about his future in the T20 internationals. The left-handed pacer has pointed out that the wicketkeeper-batter must score runs with the bat to stay in the reckoning for a place in India's playing XI.
Rishabh Pant registered his 3rd consecutive failure with the bat in the T20I series against South Africa as he scored only 6 runs off 8 deliveries on Tuesday. However, the Men in Blue still posted 179/5 in 20 overs and secured a 48-run victory to stay alive in the series.
"India have a plethora of wicketkeeping options" – Irfan Pathan warns Rishabh Pant
During a discussion on Star Sports, the former left-arm swing pacer was questioned about Rishabh Pant's form in the T20Is despite excelling in Tests. He replied:
"He has got stuck a lot, you will have to perform. As of now, you are doing the captaincy but it is possible that going forward a time might come where you might have to work hard to play in the XI."
Irfan Pathan also highlighted that India have the luxury of numerous wicketkeeper-batter options at the moment and Rishabh Pant must grab his opportunities.
"You already have Dinesh Karthik and Ishan Kishan as wicketkeepers in the playing XI and Sanju Samson is waiting, and KL Rahul (who can keep) is a name who I will always keep in my playing XI. I feel he (Rahul) is the best cricketer. So there is a lot of competition, you cannot keep your bat quiet for too long," further explained Irfan Pathan.
Rishabh Pant is leading the Indian side in the T20I series against the Proteas but he has failed miserably with the bat so far. The left-handed southpaw has scored only 40 runs in 3 matches at a strike rate of 129.03.
Irfan Pathan also praised Rishabh Pant's cricketing ability but added that the youngster needs to work a lot on his game.
"The T20 game is his, that's what I believe. There is no doubt that Rishabh Pant is a superstar player. He is a 24-year-old boy, if he plays for the next 10 years, he can become the most fantastic cricketer but that result has not come till now."
The former cricketer-turned commentator also advised Rishabh Pant to improve his shot selection and work on his off-side play.
"I feel he tries to muscle the ball a lot when he plays on the offside. When you try to put the same power that you put while playing on the leg side while losing your shape, there will be problems. He is trying to hit too hard and hitting the ball in the air. Play along the ground there and hit in the air on the leg side," Concluded Irfan Pathan.