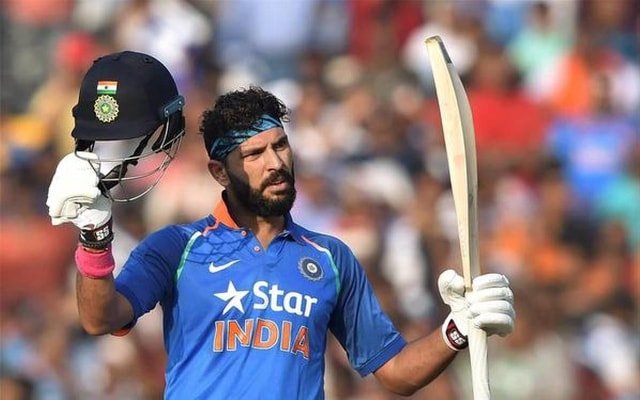 Hero of the World Cups – Yuvraj Singh is arguably India's greatest match-winner in white-ball cricket. The stylish left-arm batter was the key to India's two world cup triumphs in the 2007 T20 World Cup and 2011 ODI World Cup.
Who could forget Yuvi's six sixes in an over off Stuart Broad against England in the 2007 T20 World Cup? He later played a whirlwind knock of 70 runs off 30 deliveries against Australia in the semifinal.
His legend grew further in the 2011 ODI World Cup as Yuvraj emerged as the man of the tournament. Yuvraj Singh scored 315 runs and scalped 15 wickets during the mega-event to end India's 28 years of wait to lift the World Cup trophy.
However, Yuvraj Singh's career hit a roadblock as the champion player was diagnosed with cancer after the World Cup. The Prince of the Indian cricket made his comeback to the game after beating cancer and represented India in the 2014 T20 World Cup.
However, he had a forgettable tournament, including the final. Yuvi failed to gain any momentum during the knock and struggled to connect the bat with the ball. India were up against Sri Lanka in the final and Yuvraj Singh faced heavy criticism for his slow knock of 11 from 21 balls.
Yuvraj Singh recently opened up about his innings during an interview with News18's new show Home of Heroes.
"I tried to get out in the 2014 World Cup final" – Yuvraj Singh
"During the T20 World Cup in 2014, I was very low on confidence. There was an atmosphere where I could get dropped. It's not an excuse but I wasn't getting enough support from the team. From the time of Gary, I was in Duncan's era and things had completely changed in the team," said Yuvi.
He continued, "When the final came, I just couldn't hit the ball. I tried to hit the off-spinner and I couldn't hit it and it went for dots. I tried to get out, I didn't get out….Everybody thought my career was over after that. I also thought my career was over. But that's life. You have to accept that. If you accept glories, you must accept your defeats as well and you must move forward," Yuvraj Singh further added.
The stylish batter also talked about the need for the captain and coach's backing to perform better.
"Look at Mahi (MS Dhoni) towards the end of his career. He had so much support from Virat and Ravi Shastri. They took him to the World Cup, he played till the end, and went on to play 350 games. I think support is very important but in Indian cricket everybody will not get support," concluded Yuvraj Singh.