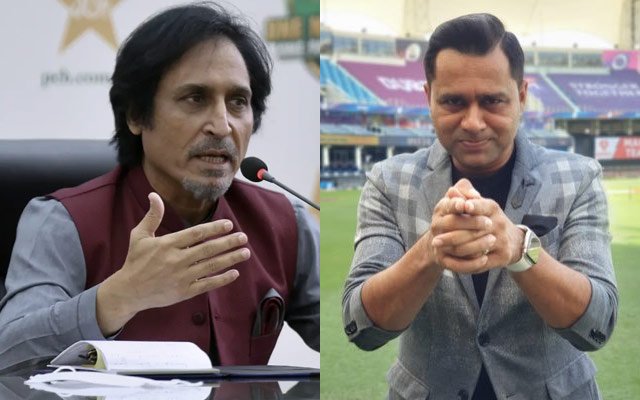 Former Indian cricketer Aakash Chopra has reacted to Pakistan Cricket Board (PCB) chairman Ramiz Raja's interest to propose an auction model to replace the current draft system in PSL starting next year.
Raja has been actively trying to improve the standards of Pakistan cricket ever since he took over the chair. From bringing international teams back in the country to showing intentions to improve the state of cricket, Ramiz Raja is doing it all.
Recently, he advocated introducing an auction in the PSL from next year. The former Pakistan cricketer asserted that his intention is not to compete with IPL but make it better than that.
Responding to it, Aakash Chopra stated that PSL won't ever match upto IPL standards, taking into consideration the market proximity. Speaking on his YouTube channel, the 44-year-old said:
"Even if you do an auction instead of drafts, it is not going to happen, you will not see a player playing for 16 crores in the PSL. It cannot happen at all, market dynamics are not going to allow that to happen, it's as simple as that."
Adding further, Aakash Chopra cited example of Chris Morris, whose per ball cost was more than the price of a player in other leagues. The cricketer-turned-commentator cited that it depends on many factors and won't be possible for other leagues to defeat.
"To be very honest, Chris Morris' one ball, when he played last time, was more expensive than the players' salary in other leagues. Is it even possible to compete or compare yourself with the IPL, whether it is PSL, BBL, The Hundred or the CPL? Is it a slightly misplaced judgment?" he wondered.
"The price is decided based on how much money you get from the rights, at what price the teams are sold and then there is a total purse according to which you play. All these are interlinked, they are not separate. If someone sees them separately, he is going to get defeated," Aakash Chopra added.
PSL 2022 see a 71% jump in profit
The latest edition of the T20 franchise league in Pakistan has witnessed a massive 71% jump in net profit. This is the most the tournament has earned since its inception in 2016. Lahore Qalandars were crowned as the champions for the first time as they beat Multan Sultans by 42 runs in the summit clash.