Chennai Super Kings (CSK) is one of the most famous teams of IPL due to their dominant display in the history of the league and due to the presence of super cool captain MS Dhoni in their squad. Their fan following is not limited to Chennai or Tamil Nadu only, but CSK has popularity across the globe. Dhoni-led CSK has lifted the IPL trophy thrice, only second to Mumbai Indians from the start of the IPL in 2008. Also, CSK has the highest win percentages in matches they played, 58.41%.
CSK Owner Details
| | |
| --- | --- |
| Team Name | Chennai Super Kings |
| Owner(s) | Chennai Super Kings Cricket Limited |
| CEO | Kasi Viswanathan |
| Captain | Mahendra Singh Dhoni |
| Coach | Stephen Fleming |
Who is the Owner of Chennai Super Kings (CSK) in IPL 2023?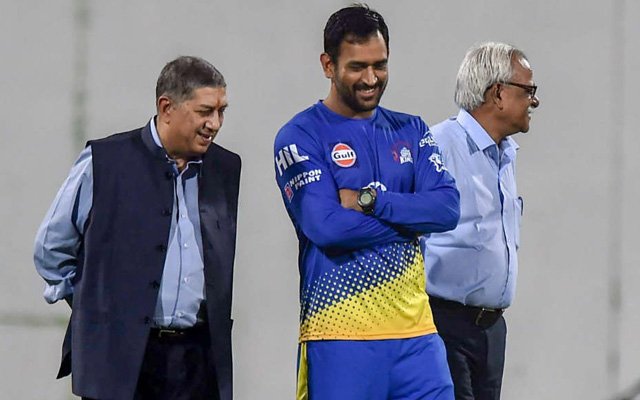 CSK team is one of the most decorated sides of IPL history. Also, they are a controversial team due to their owner's association with the Board of Control for Cricket in India (BCCI) and the 2013 IPL betting case. The IPL administration banned CSK for two years in 2015 due to the involvement of their owners in the 2013 IPL betting case. India Cements, a Tamil Nadu based company bought the Chennai team in 2008 from BCCI for $91 million.
N Srinivasan is the owner of India Cements and holds positions like vice-chairman and MD at the India Cements. Later, Srinivasan became President of BCCI. In 2014, he became chairman of the International Cricket Council (ICC).
After Srinivasan became BCCI president, the ownership of CSK was transferred to Chennai Super Kings Cricket Limited due to a conflict of interest issue. Now CEO of Chennai Super Kings Pvt. Ltd. is Kasi Viswanathan. However, N Srinivasan still plays a vital role in CSK administration.
CSK Team Brand Value – How Much Do CSK Owners Earn?
As CSK is a very successful team of IPL, it contributed to their high brand value. As per the report of Duff and Phelps, their brand value is Rs.732 crores (104 M approximately) and the owner earns a massive profit from it. CSK has the second-highest brand value among IPL teams while Mumbai Indians have the highest brand value among all IPL teams.
However, reports came out that CSK brand value decreased to Rs 611 crores only in 2020 as IPL suffered losses as most parts of the last two seasons of IPL happened due to the absence of the audience on stadiums.
In the next two-three years, maybe the transition period in CSK team will start as their captain and most popular player MS Dhoni might retire from cricket altogether. Thus it will be interesting to see if CSK can manage their brand value and popularity after the transition.