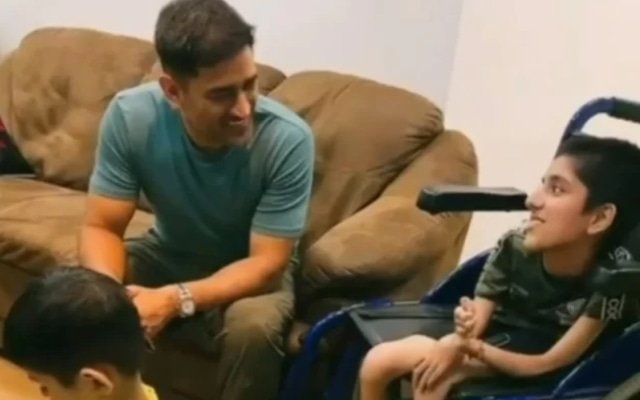 MS Dhoni rules the hearts of millions of fans across the globe. The man's name is enough to create the waves of emotions among the Indian cricket fans as for millions of fans, he is no less than a godly figure. MS Dhoni has always carried a calm aura around him and he is always known as one of the most humble personalities around. Whenever he gets a chance, he gives his fans moments to cherish by spending time with them.
In such a beautiful gesture, MS Dhoni recently spent his time with a specially-abled fan of his at the Ranchi airport. The 40-year-old met a fangirl named Lavanya and spent time with her while she showcased a sketch of him.
"He is kind, sweet and soft-spoken" – Lavanya Pilania on MS Dhoni
The fangirl Lavanya Pilania posted pictures and videos of her special moments while meeting MS Dhoni. In her post, she stated that the legendary skipper was very humble and sweet while speaking to her. She also noted how 'Mahi' shook her hands, wiped his tears while she was crying in joy, and showed appreciation and gratitude for the sketch.
Lavanya highlighted the importance of the special moment in her life and ran out of words while acknowledging her love for the captain cool MS Dhoni.
"@mahi7781 MY 🌏♾Feeling of meeting him is something I can't put in words, he is kind, sweet & soft spoken. The way he asked me about my name spelling, he shaked my hand & when he said "RONA NAHI" & wipe my tear it was a pure bliss for me. ❤ He said "THANK YOU" to me for his sketch & said "MAIN LE JAUNGA" & the words he spoken to me will be remembered by me forever. ❤," Lavanya posted on Instagram.
"He gave me his precious time was something I can't express through words. When I said him "AAP BAHUT ACHE HO" his reaction was priceless. 31 MAY, 2022 will be special for me forever. ❤♾- Lavanya Pilania," she added.
Watch the video here:
Such a great person – MS Dhoni, always finding time for fans. (Video credit: Lavanya Pilania Instagram) pic.twitter.com/LAHesSAzkt

— Johns. (@CricCrazyJohns) May 31, 2022