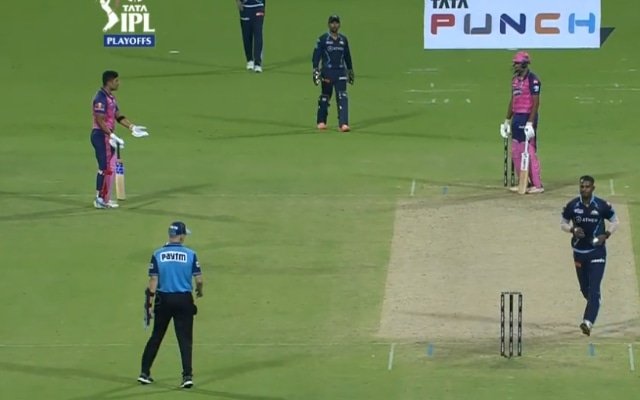 In the game between Rajasthan Royals and Gujarat Titans, Riyan Parag and Ravi Ashwin were involved in a comical run-out. On Tuesday night, with a place in the final on the line, Gujarat Titans went toe-to-toe against Rajasthan Royals in Qualifier 1 of the IPL 2022.
Gujarat Titans' skipper Hardik Pandya won the coin flip and decided to bowl first. His decision soon proved to be the right one as Yash Dayal dismissed Yashasvi Jaiswal early in the innings. However, the skipper Sanju Samson came out with attacking intent and took the bowlers to the cleaners. He alongside Jos Buttler stitched a vital partnership in the middle.
While Jos Buttler kept holding one end, the Royals from Rajasthan lost the way towards the end of the innings. However, the real drama unfolded on the final delivery of the Royals' innings involving the senior pro Ravi Ashwin and Riyan Parag.
Ravi Ashwin ignores Riyan Parag for a single, the youngster stares at the senior pro after getting run-out
On the final delivery of the final over, Jos Buttler got run out while trying for an extra run. However, it turned out to be a no-ball from the pacer Yash Dayal and Ravi Ashwin came out to bat. Meanwhile, Riyan Parag was present at the non-striker end.
Ashwin took the strike to face the free-hit and the final delivery of the innings. However, Dayal came in charging and delivered a wide. Trying to get on to the strike to face the final ball, Riyan Parag tried to steal a bye from the wicketkeeper's gloves.
At the same time, Ravi Ashwin was unmoved in his crease and Parag reached the striker's end. He was subsequently run out and clearly wasn't happy with his senior partner. Riyan Parag gave a long staredown to his partner Ravi Ashwin before leaving the field.
Watch the video here: