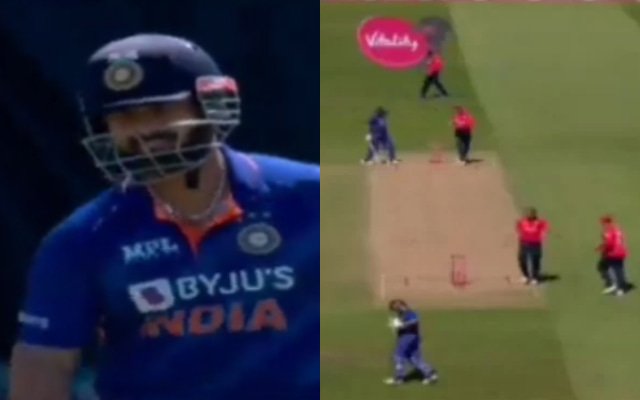 Indian wicketkeeper-batter Rishabh Pant was at his hilarious best during the 2nd T20I between India and England as his quirky question to the skipper Rohit Sharma caught the stump mic during the first over of the Indian innings.
On Saturday, England and India locked horns in the 2nd T20I of the three-match series in Birmingham. With a 1-0 lead already, Men in Blue entered the game looking to take an unassailable lead to seal the series.
The English skipper Jos Buttler asked the Indian team to bat first after winning the toss. To everyone's surprise, Rishabh Pant came out to bat alongside the captain Rohit Sharma. Meanwhile, the left-arm pacer David Willey opened the attack for the home side.
Also Read: "Bhuvi, the magician" – Twitter applauds Bhuvneshwar Kumar as India seal series after thumping England in 2nd T20I
"Takkar maar du kya," Rishabh Pant asks Rohit Sharma
Rohit Sharma took the strike on the first two deliveries. But, he took a single and gave the strike to Pant for the next four balls. On the third delivery of the opening over, Rishabh Pant patted the ball towards the on-side and took off for a quick single. While the Indian wicketkeeper-batter was trying to complete his run, David Willey came in his way and obstructed the opener.
Following the incident, Pant could be heard telling his skipper "Yeh saamne aa gaya yaar, saamne aa gaya" translating to "he came in front of me (while running)". After informing the same, Rishabh Pant further asked Rohit Sharma "Takkar maar du kya?" translating to "should I hit him, if he comes in the way."
Meanwhile, the Indian skipper Rohit Sharma replied "Maarde aur kya" translating to "obviously hit him, why not" giving a green light to Pant. The hilarious conversation between the Indian wicketkeeper and the skipper was recorded on the stump mic.
Watch the video of the hilarious conversation here:
Rishabh Pant asking " takkar mardu kya" 😭😭❤️ pic.twitter.com/4I4bIEx0ZJ

— time square 🇮🇳 (@time__square) July 9, 2022
Also Read: WATCH: Steve Smith applauds Prabath Jayasuriya's bowling in ongoing Test between Sri Lanka and Australia