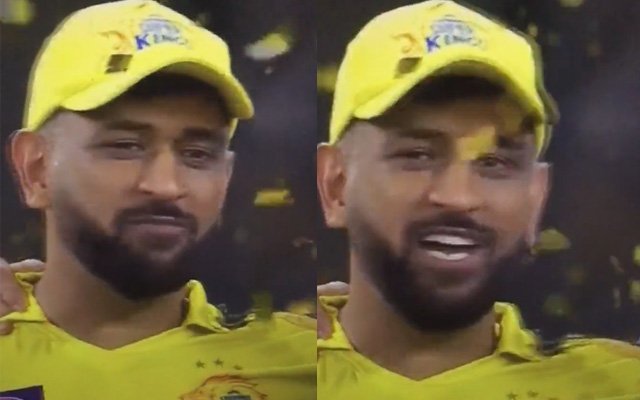 MS Dhoni shocked the whole cricket fraternity after he stepped down as Chennai Super Kings captain ahead of the start of the Indian Premier League. CSK will play their opening game against KKR at Wankhede Stadium in Mumbai on March 26.
MS Dhoni will step out on the field as a player for the first time in a CSK outfit. Notably, he has handed over the captaincy to Ravindra Jadeja, who is all set and ready to lead CSK in the upcoming season.
Ravindra Jadeja has been one of the important players for CSK since 2012. The all-rounder has won two titles at CSK. He will be the third player after MS Dhoni and Suresh Raina to captain the yellow army.
MS Dhoni's IPL 2021 celebration video goes viral
Meanwhile, an old video clip featuring MS Dhoni has been widely circulated on social media after the legend stepped down as CSK captain. According to the old video taken last year, MS Dhoni spoke his last few words during IPL 2021 trophy celebrations.
Watch the video:
He said "Job done " , he actually meant it 😭😭😭😭.
https://t.co/jqK6nNLWeD

— ` (@FourOverthrows) March 24, 2022
It was after CSK beat KKR to win the fourth title. During the celebrations, MS Dhoni said, "job done". This pretty much summed up MS Dhoni's long spell as CSK captain as he has done the job quite superbly for CSK since the inaugural season.
MS Dhoni started his journey as CSK in IPL 2008 season. However, CSK lost to Rajasthan Royals in the final. Despite a heartbreaking defeat, CSK bounced back and won the first title by beating Mumbai Indians in IPL 2010 season.
CSK recorded their second title by beating RCB in IPL 2011 final. The yellow army won their third title by beating Sunrisers Hyderabad in IPL 2018 final. Their fourth title came in IPL 2021 season when CSK beat KKR in the final. MS Dhoni will go down as one of the most successful captains in the IPL. Under his captaincy, CSK won four titles.