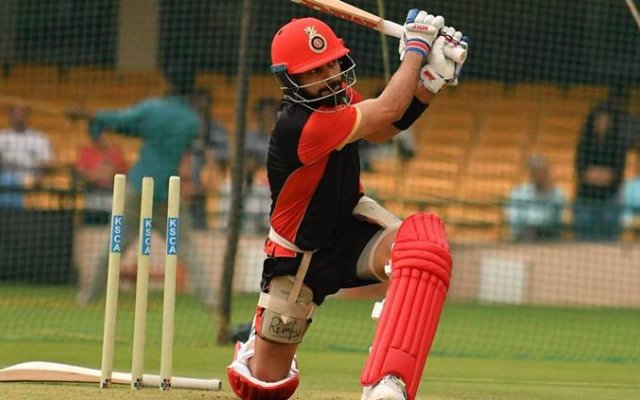 Ahead of the crucial game between Mumbai Indians and Royal Challengers Bangalore, former RCB skipper Virat Kohli was spotted sweating it out hard in the training session.
Kohli hasn't been in his prime form in recent times, and he hasn't had a great start in the IPL 2022 either. He is the pillar of the RCB's batting, and the team management will hope that their superstar turns the tide quickly.
However, things are not going perfectly for Virat Kohli as the former India skipper struggled against spin bowling in the nets. During his practice session, he failed to pick a wrong un from the bowler and got clean bowled, attempting to play a late cut.
Given the high standards Kohli set for himself, he looked livid with himself and was about to smash the stumps with his bat.
Watch the video here:
Nahi sir bat se apna sir phodna tha 🥲✌🏽😒 pic.twitter.com/QeDDzh92Rn

— Aani 🦦 (@wigglyywhoops) April 8, 2022
Earlier, Virat Kohli was spotted sharing the batting tips with the youngster Anuj Rawat during a training session. The left-handed opener shared a story on his Instagram account where Kohli could be seen sharing valuable batting tips with the young gun.
Virat Kohli and RCB are eyeing another win
Royal Challengers Bangalore will square off against Mumbai Indians in their next match. The Bangalore-based franchise will be searching for their third win of the season as they have managed two wins and a single loss in three matches.
Mumbai Indians, on the other hand, are in a dire situation after losing the first three matches. The five-time champions are searching for their first win, and one can expect them to come hard at their opposition.
Talking about Virat Kohli, the superstar hasn't set the league on fire with his bat and struggling to get runs. He has managed only 58 runs in 3 matches which is not up to the lofty standards he sets for himself.