Former Delhi batter Unmukt Chand expressed his joy as ICC hands an automatic qualification to the USA for the ICC T20 World Cup 2024.
Chand is a former India U19 winning world cup skipper who moved his base to the USA after retiring from Indian cricket. He took the hard decision for better opportunities to play international cricket.
Unmukt Chand took to his social media handle and shared the news with his fans, expressing his elation.
"Huge News!!! The ICC has today confirmed automatic qualification for #TeamUSA as co-host of ICC Men's T20 World Cup 2024 alongside West Indies!!"
The batter wrote on his Instagram story. He also added: '2024 it is T20 WC' with a common emoji of a bat and ball.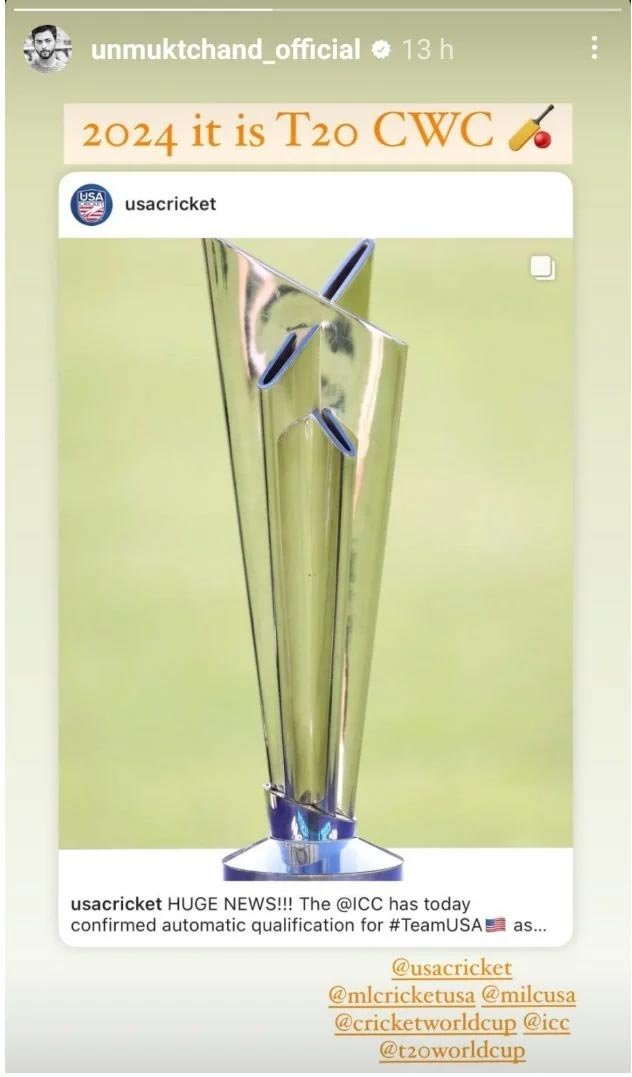 The USA are all set to record its first-ever World Cup appearance. The ICC has confirmed their participation as the co-host of the expanded 20-team tournament alongside West Indies.
Meanwhile, both men's and women's sides of the USA are also trying to qualify for the 2022 T20 World Cup and 2023 ODI World Cup events.
USA head coach J Arun Kumar also expressed his happiness alongside Unmukt Chand
After Chand, USA head coach J Arun Kumar also expressed his delight. "We are delighted to receive confirmation from the ICC that we will gain automatic qualification for the historic 2024 ICC Men's T20 World Cup to be co-hosted here in USA with the WI. For USA to play in the expanded 20 team T20 World Cup on home soil is going to be ground-breaking and historic for cricket," said J Arun Kumar.
Apart from winning the U19 World Cup for India, Unmukt Chand has represented the Delhi team in 67 First-Class and 77 T20 matches in domestic cricket. However, the stylish right-hand batter never got a chance to wear the national jersey.
Unmukt Chand recently led Silicon Valley to a title win in the Minor League Cricket after scoring 59 off 43 balls against Golden State Grizzlies. Chand is yet to be eligible to play international cricket for the USA, but he will be eligible as soon as he finishes his mandatory residency period of three years.
Also Read: Mehidy Hasan has a brain fade moment as he drops a regulation catch