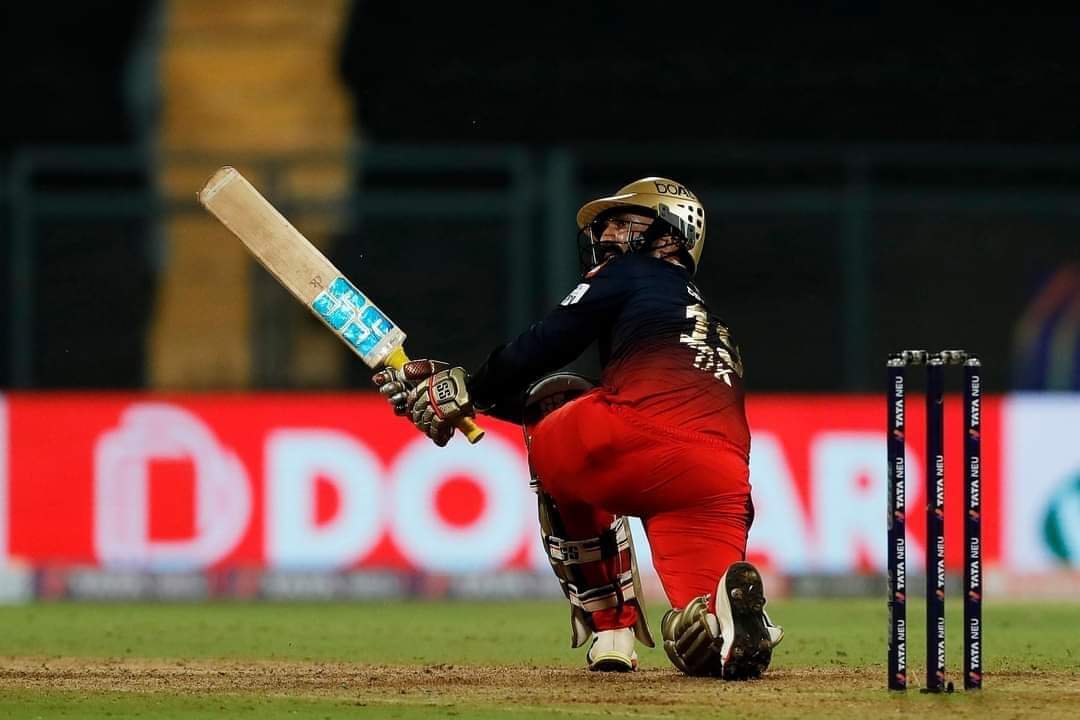 The Royal Clash turned out an enthralling battle where the Royals in Red managed to hold on to their nerves and registered a 4 wickets victory to win back-to-back matches.
RCB's skipper won the toss and invited their opposition to bat first. The bowlers did a good job to keep Rajasthan's power-packed batting to keep in check for the most part of the innings with timely wickets. However, Jos Buttler continued his merry run this season and alongside Shimron Hetmyer delivered a body blow to the Royal Challengers to put up a competitive total of 169/3 in 20 overs. It was a tricky wicket where Jos Buttler (unbeaten 70 off 47 deliveries) and Shimron Hetmyer (unbeaten 41 runs off 32 deliveries) ensured to stick till the end.
Chasing the target, RCB made a solid start as Faf du Plessis and Anuj Rawat added 48 wickets in the powerplay without losing a wicket. However, the introduction of Yuzvendra Chahal to the bowling proved fatal to RCB as the leggie looked like a man on a mission against his former side.
As usual, Royal Challengers Bangalore lost wickets in heaps and soon they were reduced to 87/5 in 12.3 overs. The game looked over for the Royal Challengers from Bangalore but Shahbaz Ahmed and Dinesh Karthik had different ideas in their mind.
The latter began the counter-attack in the 14th over of the innings, scoring 21 runs off Ravi Ashwin. Shahbaz Ahmed also joined the party and played some audacious shots to keep the RR's bowlers at the bay. The duo added a game-changing partnership of 67 runs off 32 deliveries before the youngster perished for a well-made 45 runs off 26 deliveries. However, the experienced DK remained unbeaten for 44 of 23 deliveries to ensure an unreal win for RCB.
Twitter went crazy after witnessing one of the best counter-attacking cricket from the RCB duo and hailed Shahbaz Ahmed and Dinesh Karthik. Let's take a look at some of the best tweets from the game:
Believe me or not, everyone saw ABD in the form of Dinesh Karthik today.
RCB Has found a picture perfect replacement for one of the greatest player this game has ever witnessed.#TATAIPL2022 #RCB #RCBvsRR #dk #dineshkarthik #Abdevilliers #360degree #finisher #Cricket #IPL2022

— Husain (@husain_tapia) April 5, 2022
RCB innings be like: #RCBvsRR#dineshkarthik #ViratKohli pic.twitter.com/t3J1UMeE1h

— Andy (@iamandy1987) April 5, 2022
Meanwhile:- 😂💥#RCBvsRR #IPL2022 #RCB pic.twitter.com/mecIzs82Qi

— Iam_prith_ (@Sarcasticprith) April 5, 2022
📸 – #IPL@DineshKarthik @RCBTweets #RCBvsRR #Royalchallengersbangalore #DineshKarthik #DK #IPL2022 #IPLMemes #GalattaMemes pic.twitter.com/HoEuCBdp3D

— Galatta Media (@galattadotcom) April 5, 2022
#RCBvsRR
What a brilliant baiting performance by Shahbaz Ahmed and Dinesh Karthik , this match was tough but we won the match. 🌼
#RCB #TATAIPL #dineshkarthik #shabazahmed #ViratKohli #WeAreChallengers #PlayBold pic.twitter.com/UsGmgPVMLp

— Saleem Ganjigatti (@SaleemGanjigat1) April 5, 2022
Shabashh Ahmed 💥💥💥 #ShabhazAhmed #RCBvsRR

— Yashwanth Rao (@YRS2tweets) April 5, 2022
#RR Thinking it's Easy Now that we have taken Virat kholi N Fap out.!
Meanwhile Shahbaz N DK:#RCBvsRR pic.twitter.com/73mhnyfU0k

— VISHAL_ (@Vish_0211) April 5, 2022