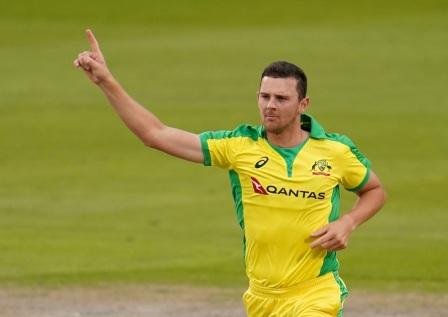 Royal Challengers Bangalore are all set to miss the services of their premium pacer, Josh Hazlewood, as the Australian is unlikely to be available for another week.
Hazlewood was a part of the Australian team that toured Pakistan for the historical series. He will be joining the Bangalore-based franchise in the next couple of days before going through a mandatory three-day quarantine.
Josh Hazlewood is on a short break due to personal reasons
Hazlewood was supposed to join the RCB side after the Pakistan series. However, unlike his Australian teammates, he didn't join his team directly and took a short break instead due to personal reasons.
"Hazlewood would be joining the team in next couple of days. Unlike others, he didn't directly link up with his franchise post Pakistan series. He has taken a short break due to personal reasons," PTI was told by an IPL source on the condition of anonymity.
The Aussie players will be available on 6th April. And had Hazlewood joined RCB as per schedule, he would have been available for selection against Mumbai Indians on 9th April.
However, he now could be available for the game against Chennai Super Kings on 12th April post completion of quarantine.
Royal Challengers Bangalore will be aiming for consistency
The Royal Challengers from Bangalore have had a mixed start to their campaign, with one win and one loss after two matches. They now face sturdy competition in their next game against in-form Rajasthan Royals.
RCB will miss the services of their 'Big-Show' Glenn Maxwell in the Royal clash. However, unlike Josh Hazlewood, the 33-year-old will be available for selection on 9th April against the Mumbai Indians.
"From a Cricket Australia point of view, no contracted players are available before 6th April. So, regardless of when they arrive over here, no one can play until the 6th. We've been well aware of that as any other side, we've planned for that. Maxi will be with us and available from the 9th (of April),"
RCB Director of Cricket Operations Mike Hesson said.