Social media has a set of its own advantages and disadvantages. While they are lots of boons on platforms like Facebook, Twitter, Instagram and so on, netizens, celebrities are often misusing these platforms in the name of freedom of speech. They are crossing their limits to come up with hate speech which is not good by any means.
How often have we seen fans fighting among themselves on social media? There are several comments, tweets and messages which hurt several people's sentiments. However, there seems to be no end to all this chaos. On the other hand, there have also been hilarious memes, banters, bitter conversations on these platforms.
Recently, the Twitterverse saw a bitter exchange involving Alex Hartey, Rory Burns and Ben Duckett. Their exchange became the talking point on social media. What started as a plain and normal tweet, turned out to be a bitter conversation. This kept the Twitterverse talk about it.
What really happened?
It all started after India secured an emphatic win over England in the pink-ball Test match in Narendra Modi Stadium in Ahmedabad. Virat Kohli & Co dominated the game really hard and ensured to keep the visitors in check. The fact that India finished the game within two days became the talking point.
England's woman cricketer Alex Hartley drew attention after she posted a tweet on the England cricket team. She took a dig at the England batting line-up as they failed to find solutions in the third Test.
As a result, the match ended in 2 days. Although not many fans reacted to her tweets, some of the male cricketers find it offensive that they took time to reply to her tweet. England cricketer Rory Burns replied to her tweet by saying: "Very disappointing attitude considering all the "boys" do to support the women's game."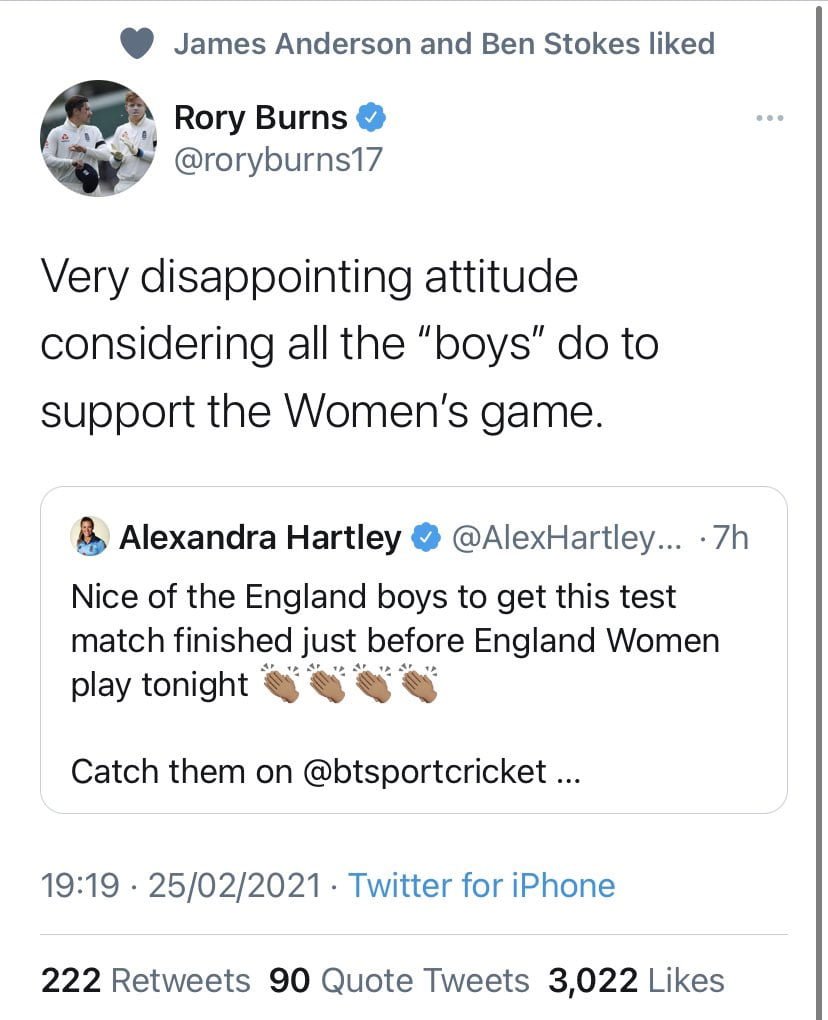 After posting this tweet, he deleted it later. Meanwhile, Ben Duckett joined the scene and reacted to Hartley's tweet as well. He wrote: "Average tweet. Don't think any of the men's team would have been "👏🏼👏🏼👏🏼" if the women lost."
India won the third Test and took a 2-1 lead in the high-profile series. The fourth and final Test match will be played at Narendra Modi Stadium in Ahmedabad on March 4. India should make sure they don't lose the Test else they may not qualify for the World Test Championship final at Lord's in June.