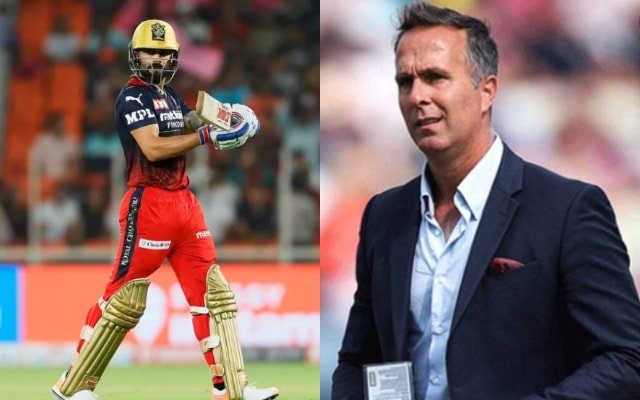 The former English skipper Michael Vaughan has advised Virat Kohli to take a breather from the cricketing duties after RCB's campaign ended in the IPL 2022 after a 7-wicket defeat to Rajasthan Royals in the 2nd Qualifier.
Former India skipper Virat Kohli endured a difficult time with the bat for Royal Challengers Bangalore in the Indian Premier League 2022. The right-handed southpaw scored 341 runs in 16 matches at an average of 22.73 and a strike rate of 155.99. It is Kolhi's one of the worst-ever performances in the IPL. He is currently going through an extraordinary dip in the form and many pundits, including the former India coach Ravi Shastri, have suggested Kohli take a break from cricket.
"Virat Kohli should just pack his bat into his bag and have a breather," says Michael Vaughan
In a conversation with Cricbuzz, the former England skipper said, "He is a legendary player who is going through a phase that is not too easy. Two or three years ago you just turned on the telly or arrived at the ground and knew that Virat was going to score a hundred. He just went through one of those periods where every time he batted he seemed to get a hundred. It's a career, isn't it? You don't go through your whole career where everything is so easy."
"He just needs a breather. Go and get some time with your family, get on the plane to England and then start to hit some balls again," added Michael Vaughan.
Meanwhile, the BCCI has rested Virat Kohli for the upcoming South Africa series. He is among the senior players who are rested for the five-match T20I series. However, he has been selected for the Test squad against England.
"These players have played so much and they are under so much pressure every day of their lives that it is inevitable that eventually, you go through a period where you struggle a little. He is too good a player not to bounce back and he will have one of those periods again which we saw a few years ago where he got so many centuries. It is just that little bit harder at the minute and he has got to work so hard to get back into form. But I think at the minute, he should just pack his bat into his bag and go and a sit-down with the family. I don't know where he can go without getting hassled and pestered, doing commercials. Just get away from all that, have a few weeks of chilling and he will be fresh when he picks the bat up," concluded Michael Vaughan.